Published on the 21/10/2020 | Written by Heather Wright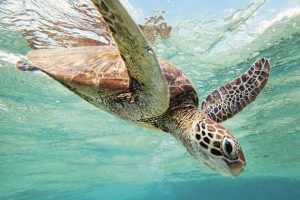 Cowabunga, tech's got a strong conservation role…
They're not the most obvious of bed-fellows, but technology is increasingly coming to the aid of wildlife, with turtles hatching along the Bundaberg coastline the latest to receive a techie helping hand.
Queensland's Livingstone Shire Council has installed smart street lighting, using LoRaWAN network connectivity, in Zilzie in an effort to help protect turtle hatchlings from being disorientated by artificial lights.
The town is a nesting area for sea turtles, but the tiny hatchlings face a perilous first journey to the sea after hatching. Street lighting apparently isn't aiding them. Instead, it causes some to become disorientated, interfering with their ability to see the natural horizon and prompting some to veer off course. Even those that make it to the sea can be lured back by the lights, councillor Andrea Friend, portfolio holder for water, waste management and the environment, says.
"This is a fantastic example of the good that IoT can do in the world."
It's a dicey start to life, with just a one in 1,000 chance of reaching maturity.
"It's important that the council acts to protect the species with this trial," Friend says.
The solution? Amber coloured, dimmable, smart street lighting.
Amber lights aren't new when it comes to turtle preservation. Turtles, like many animals, use the absence or presence of light as a directional guide – in the case of turtle hatchlings, seeking out the brighter horizon over the ocean. White lighting can cause confusion and amber lighting has been used globally as turtle friendly lighting.
The Zilzie pilot includes the ability for the lights to be remotely dimmed. The set up uses National Narrowband Network Co's LoRaWAN network infrastructure, deployed last year in Livingstone, and and Flashnet IntelliLight Nema controllers to enable the remote dimming and amber lighting.
"Smart street lighting can provide cities and communities with significant energy and cost savings, but now we're also seeing life-giving benefits like this one," says NNNCo chief executive Rob Zagarella.
(In other news, NNNCo this month signed a deal with Kiwi telco Spark for a trans-Tasman IoT network enabling businesses on both sides of the Tasman to deploy IoT devices with cross-Tasman roaming.)
The Zilzie initiative is just one example of how technology is being deployed to help in conservation efforts – from cameras and acoustic sensors to monitor animals and learn about their population density and changes, to drones fitted with infrared optics to spot poachers or sensors and machine learning which alerts to when wildlife is responding to threats the future of conservation is increasingly tech-driven.
A remote monitoring proof of concept has also been launched to save forests from illegal deforestation in protected areas using GPS-based geofencing which interlock with fuel pumps on machinery to shut equipment down in restricted areas.
Meanwhile Babybots – undersea robots carrying coral larvae – have been deployed along the Great Barrier Reef to deliver the microscopic larvae onto the reef in an attempt to restore it, while smart trackers are being credited with bringing the rare rowi kiwi back from the brink.
As for Zilzie's sea turtle's Sea Turtle Alliance vice-president John Gatley says replacing the street lights will make an important contribution to ensuring hatchlings at least get a safe start in their life's journey.
"This is a fantastic example of the good that IoT can do in the world," adds Zagarella.