Published on the 18/10/2018 | Written by Heather Wright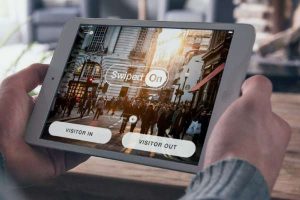 While Soul Machine garners new investment…
It's been a good week for Kiwi tech companies with Tauranga-based SwipedOn, which provides visitor management solutions, snapped up by a UK company in a NZ$11 million deal, and AI company Soul Machines gaining investment from Daimler Financial Services.
SwipedOn's acquisition by workspace management software vendor SmartSpace Software comes just a year after the company secured $1 million in capital funding, with Stephen Tindall's K1W1 fund and the government's NZ Investment Fund among the investors. Ice Angels and Enterprise Angels are also among the company's investors, who have reaped rich rewards from their early faith in the company.
"We have a big vision, bold plans and will be playing a key role in offices of the future."
Founded in 2013 by Hadleigh Ford, SwipedOn has developed an iPad-based system which enables electronic visitor check-ins to business. It has enjoyed success across multiple industries including manufacturing, construction, transportation, technology, utilities education, finance and government, consumer goods and retail, superyachts and marine and sports and leisure.
SwipedOn logged annual recurring revenue (the favoured means of reporting revenue for companies offering subscription services) of NZ$1.6 million in August, (up from $846,000 last September) and has doubled its customer numbers in the past 12 months to nearly 2,300.
Frank Beechinor, SmartSpace CEO, says SwipedOn offers a scalable technology with a worldwide customer base, strong team and established SaaS management processes with the potential for significant growth.
"With customers in over 39 countries, SwipedOn's worldwide presence supports our ambition to be a global business. It is our intention to accelerate growth in customer numbers and to increase average recurring revenue per user, across the SwipedOn business and we see opportunities to upsell our mid-market and enterprise solutions to several SwipedOn customers," Beechinor says.
In an announcement on LinkedIn, Ford said the company will be remaining in New Zealand with Ford continuing at the helm.
"We have a big vision, bold plans and will be playing a key role in offices of the future."
In April, SwipedOn was awarded a three-year growth grant by Callaghan Innovation, refunding 20 percent of all eligible spend up to $15 million.
The company, which employees 19 staff, reportedly hasn't drawn down on any of that potential funding – most likely as it will be attached to the current financial year's accounting. It also expects to take on additional staff in the coming weeks.
SmartSpace disposed of its system integration and managed services division earlier this year to focus on the 'space management market'. The company had looked at several other acquisition opportunities in visitor management in the UK, US and Europe before selecting SwipedOn.
SmartSpace will pay NZ$8.6 million with the remainder in the form of 1.37 million Smartspace ordinary shares to the four existing SwipedOn shareholders ­– Ford and co-founder Ben Scott, CTO Matt Cooney and marketing head Paul Hansen.
The Callaghan connection has raised eyebrows in some quarters as offshore acquisition of grants holders was one issue raised in the abolishment of the Growth Fund, with concerns that the benefits then accrue to foreign interests. In this case, given the grant is attached to 20 percent of 'eligible spend' (vs 15 percent available to all comers), there would appear to be little benefit. If anything, it encourages further spend in NZ.
Meanwhile Soul Machines, whose digital avatars are used by ANZ with Jamie, and Vector with digital teacher Will among others, garnered an undisclosed investment from automotive giant Daimler's financial services subsidiary.
Greg Cross, Soul Machines chief business officer, says the strategic investment will enable the company to quickly develop and test its technology in the automotive sector.
Daimler is a customer of the Kiwi company, and has been piloting an avatar as a 'personal concierge' for customers.