Published on the 27/02/2018 | Written by Newsdesk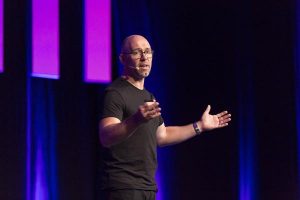 Enterprise solutions make growing contribution to software vendor's success…
Things are looking good for MYOB as it continues to grow its cloud footprint and extend its leadership in the mid-market ERP space. It's 2017 financial results show double digit growth across all key financial measures, together with posting a record online subscriber growth of 60 percent, driven by new small business customer wins and increasing migration off its desktop applications.
The software vendor, which provides solutions for businesses from the smallest of operators through to large manufacturing and distribution businesses, is head to head with Xero in leveraging accounting practices as a key sales channel. Its 'Connected Practice' vision and focused investment in the MYOB platform to deliver integrated services is generating significant efficiencies and savings for SMEs and advisers, driving strong uptake.
With its Enterprise Solutions division now accounting for 16 percent of total revenues, the company noted that it is recognised as the number one provider of ERP solutions in Australia and New Zealand, based on total sites installed. It's online ERP solution, MYOB Advanced is playing a key part in that performance. Advanced is now installed at more than 450 sites, which represents growth of above 80 percent year on year, comprising almost 60 percent of MYOB's Tier 3 ERP sales in FY17.
As a whole, revenue growth for the Enterprise Solutions division was up by 25 percent on the previous year. Some 18 percent of that resulted from a full year of revenue from the acquisition of Greentree in August 2016. Underlying revenue, excluding acquisitions, grew by 7.5 per cent from FY16. Organic recurring revenue grew 11 per cent in FY17 and now represents 82 per cent of Enterprise Solutions total revenue, up from 80 per cent in FY16.
New license revenue reduced by 9 per cent in FY17 as the shift from desktop licenses to online subscriptions accelerated.
MYOB said it sees significant growth potential in the payments sector, with the category representing a $1.2 billion total addressable market for fees from payments through accounting software platforms.
Following the successful acquisition and integration of Paycorp in 2017, MYOB's newly established payments division reported its first set of standalone results, generating revenues of $6.3 million for the 9 months to December 2017.
In a statement, MYOB Chief Executive, Tim Reed said: "I am pleased to report a strong set of financial results for the 2017 financial year.  We strongly believe in our Connected Practice vision and as we invest to build out the MYOB Platform, we are seeing more and more accountants and SMEs embrace their digital future and migrate online, with record online subscriber growth in 2017. The rewards of automation and accurate data feeds are significant and generate greater efficiencies and savings for small business owners and their advisers.
"We are seeing more and more accountants and SMEs embrace their digital future and migrate online"
"Our mission is to 'simplify success' for our customers. The addition of payments processing means SME owners can achieve more within the MYOB platform; everything from invoicing and superannuation, through to applying for a bank loan and running payroll."
Revenue for the 12 month period increased to $416 million, up 12 percent on the prior year, and underlying earnings before interest, tax, depreciation and amortisation (EBITDA) grew to $190 million, up 11 per cent on prior year. MYOB's preferred measure of after tax profit, NPATA (net profit after tax and after adding back the tax effected amortisation expense related to acquired intangibles) was $102 million, up 10 percent on prior year, with associated NPATA earnings per share (EPS) of 16.9 cents, up 8 percent on prior year.
MYOB's Chief Financial Officer Richard Moore described the company as 'a market-leading provider of online business management solutions, with industry leading EBITDA margins of greater than 40%, and a proven track record of profitability and growth'.
"We expect the positive growth trajectory to continue as we realise the significant upside in the payments and enterprise markets and as we continue to grow our online subscriber base and increase customer lifetime value. We see further potential for growth from the acquisition of Reckon's Accountant Group assets, and expect a decision from the Australian and New Zealand competition regulators in the second quarter of 2018."
See MYOB's full results.