Published on the 11/03/2020 | Written by Jonathan Cotton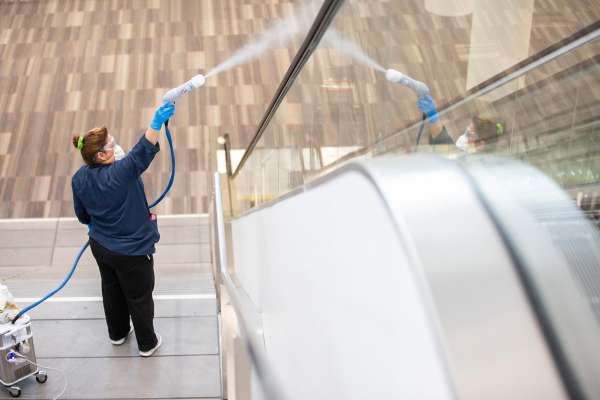 2020 the year of live streaming and webinars as organisers react to panic…
In the wake of the coronavirus, a multitude of high profile tech events have been either cancelled or postponed. And while preparations for make-up events and virtualised event alternatives get underway, the already significant costs are being tallied.
But first things first: Who has cancelled what?
The Adobe Summit 2020 in Las Vegas, originally to run from the end of March until April 2 in Las Vegas, will now go online.
"Coronavirus adds another factor – you won't die attending a webinar."
"Over the past few weeks, we have been closely monitoring and evaluating the situation around Covid-19 to ensure we are taking the necessary measures to protect the health and wellbeing of Adobe Summit attendees," says the group.
"As a result, we have made the difficult but important decision to make Summit/Imagine 2020 an online event this year and cancel the live event in Las Vegas.
"While we are disappointed that we will not be together in-person with our community this year, we are excited to host Adobe Summit as an online experience."
Amazon's April AWS Summit 2020 in Mumbai has been cancelled outright, as has Amazon's AWS Singapore Summit, due to 'continued concerns about Covid-19'.
"We've reached this decision after much consideration, as the health and safety of our employees, customers, and partners are our top priority."
The coronavirus has turned Dell Technologies World 2020 into an online-only event, originally set for early May.
"Because nothing is more important than the health and safety of our team members, customers, partners and suppliers, we have decided to make Dell Technologies World 2020 a virtual event," says the company.
"This decision was not made lightly. As we learn more about the ongoing Covid-19 outbreak, we know this is the right thing to do, given the global nature of Dell Technologies World."
Demandbase has postponed its upcoming 2020 ABM Innovation Summit until a later date and has added a virtual keynote session that will take place on March 17.
Facebook has cancelled the face-to-face elements of the Facebook F8 Conference which was scheduled to take place from early May.
It's not all over for Facebook attendees however, with key elements of the event moving online.
"Given the growing concerns around Covid-19, we've made the difficult decision to cancel the in-person component of F8 2020," says Konstantinos Papamiltiadis, director of developer platforms at Facebook.
"In place of the in-person F8 event, we're planning other ways for our community to get together through a combo of locally hosted events, videos and live streamed content. We'll share additional details on our plans for F8 in the coming weeks."
The social giant has also cancelled the Facebook Global Marketing Summit in San Francisco.
Both March Gartner Data & Analytics Summits (London and Texas) are now postponed to a later date, 'out of an abundance of caution', the company says.
"We will be communicating new dates shortly."
Google is busy processing refunds for its cancelled Google I/O event which was due to take place at Mountain View, California from mid-May. Originally expecting 5,000 attendees, that's trimmed down to zero at an estimated cost of almost US$20 million.
"Due to concerns around the coronavirus (Covid-19), and in accordance with health guidance from the CDC, WHO and other health authorities, we have decided to cancel the physical Google I/O event at Shoreline Amphitheatre," says Google. "Guests who have registered for I/O 2020 will not need to enter next year's drawing and will be automatically granted the option of purchasing an I/O 2021 ticket.
"Over the coming weeks, we will explore other ways to evolve Google I/O to best connect with our developer community," the statement concludes.
The Google Cloud Next 20 will still go ahead however, but only as an online event, conducted as a series of virtual sessions and livestreams.
The Ingram Micro Cloud Cloud Summit 2020 (scheduled for May 12-14 in Florida) has been postponed until 2021.
"Ingram Micro Cloud is reviewing other company events on a case-by-case basis and will provide ample notice of any future cancellations or postponements," the distributor says.
Oracle's Modern Business Experience in Chicago, is postponed, but will broadcast keynotes via a free virtual event, March 24.
Microsoft's MVP Summit in Seattle will keep the same dates, but switch location to the virtual world.
"In light of recent developments globally and the growing concerns around the spread of the Covid-19 virus, Microsoft has made the decision that this year's MVP/ Regional Director Summit will be an online-only/virtual event," says the company in a statement.
"Our entire team is working hard to plan and prepare an alternate experience that still provides the exclusive in-depth technical sessions in an online-only format and be inclusive to our globally distributed community.
"With the unknowns around global travel and Covid-19, we will not be releasing future MVP Global Summit dates at this time."
After a score of high profile exhibitors said they wouldn't be attending, the Mobile World Congress (run by mobile network industry group GSMA) in Barcelona has been cancelled, disappointing some 100,000 guests and with losses estimated at around US$480 million.
"The GSMA has cancelled MWC Barcelona 2020 because the global concern regarding the coronavirus outbreak, travel concern and other circumstances, make it impossible for the GSMA to hold the event," say the event organisers in a statement.
"Our sympathies at this time are with those affected in China, and all around the world."
Oracle has postponed its two-day OpenWorld Asia event in Singapore "in light of the 'Covid-19' outbreak and the recent pronouncement of a public health emergency by the World Health Organisation," with any plans to reschedule yet to be announced.
And with the withdrawal of big names Apple, Facebook, Twitter and TikTok, the world's sexiest tech and culture event, SXSW (which drew more than quarter of a million visitors last year) has been cancelled, at an estimated cost of US$350 million.
"We are exploring options to reschedule the event and are working to provide a virtual SXSW online experience as soon as possible for 2020 participants, starting with SXSW EDU," say organisers.
"We understand the gravity of the situation for all the creatives who utilise SXSW to accelerate their careers; for the global businesses; and for Austin and the hundreds of small businesses – venues, theatres, vendors, production companies, service industry staff, and other partners that rely so heavily on the increased business that SXSW attracts."
In New Zealand, ITx 2020 has been postponed – with the 2020 conference now planned for mid-2021. ITP, who organise the annual conference, are also putting on hold all events where more than 100 attendees are expected. It's going a step further too, saying it will only be supporting third-party events that 'take similar precautions' to what it's doing for its own ITP events.
Paul Matthews, IT Professionals chief executive, says "While we still don't know the full extent and seriousness of the virus, along with many other similar events we have erred on the side of caution.
"We also need to be thinking about the anxiety and concern the current situation is causing and it just makes sense to push the event back in the current climate.
"Whether the virus turns out to be significant or not in New Zealand is secondary – many people are feeling a high level of anxiety and we'd rather put in place measures to make them feel confident and safe coming to our events."
Matthews says ITP's response has been well received by members who have been 'overwhelmingly positive' in their responses.
But while it might feel like we all need to hibernate, not everyone is so wary and cautious. Conferenz, a major organiser of conferences in New Zealand says it's seeing strong bookings for upcoming events. Steve Scott, Conferenz managing director and owner, says events scheduled to take place in March and April currently have more than 2,200 attendees booked, with only around one percent of those indicating they are facing any difficulties attending due to corporate travel bans or personal choice.
"Bookings are still coming strongly," Scott says.
"However, this is a situation that is developing daily and, thus, we are ensuring our planning is taking into account any eventuality, including the possibility that events may have to be postponed until later in the year. Our commitment is to the health and safety of everyone at our events and to follow official advice. But for now, it's business as usual."
So, given that somewhat cryptic message from ITP about not being able to support other conferences which don't take similar precautions, is ITP pulling its partnership with the 2020 CIO Summit? Matthews is non-committal. "We haven't yet evaluated whether we can continue to support the Summit this year due to this policy."
As for the cost of all this tech event disruption, there's plenty of ways to lose money here – travel, accommodation and hospitality – not to mention the out of pocket losses to event organisers and all those lost opportunities.
According to data intelligence outfit PredictHQ, the cost is estimated to have already topped US$1 billion, and that may only be the beginning. The Global Business Travel Association (GTBA) says the coronavirus could potentially be costing US$46.6 billion per month to the travel industry alone.
"If this turns into a global pandemic, the industry may well lose billions of dollars – an impact that will have negative ramifications for the entire global economy," says Scott Solombrino, GBTA CEO and executive director.
"Our industry's first priority is the health and safety of the business traveler, and our members are being appropriately cautious and proactive in their approach to the situation."
Among those proactive approaches are alternative means of communicating with audiences, as face-to-face encounters become increasingly untenable.
Could 2020 see the start of a new golden age of digital conferencing?
Perhaps so. iStart has been running webinars for the past decade.
Managing director Hayden McCall commented: "Back then it was early days for the technology – our first event was on how to run a successful webinar, with Citrix GoToWebinar as the sponsor.
"Now, as both the technology and its acceptance have improved, organisers are mainly attracted to the ease and low cost of hosting events. Its broader reach and environmental benefits also weigh in.
"Coronavirus adds another factor – you won't die attending a webinar."