Published on the 07/08/2019 | Written by Heather Wright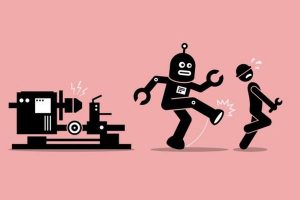 It's the future Jim, but not as we know it…
The future of work is here and now and requires businesses to take note pronto, rather than waiting until it clearly arrives at their doorstep, according to Forrester Research.
The research company's The Future of Work report says intelligent automation – which includes AI and robotics – is the next multiplying force shaping how consumers and workers accomplish daily tasks.
But it notes that automation isn't a singular trend, with future of work scenarios instead influenced by parallel trends including the gig economy, increasing desires for privacy or transparency, the long-term journey of shifting to customer obsessed operations, the destruction of industry lines and the strengthening of super-platforms.
"Move too slow and risk acute competitive risk; move too fast and create operational complexity."
Combined, they're creating a wave of change which Forrester says businesses need to take heed of now – but with some caution.
"Move too slow and risk acute competitive risk; move too fast and create operational complexity that weighs down the organisation and confuses (or disenfranchises) customers," Forrester cautions.
"Regardless, automation gaps will create the next level of technical debt, where companies can't or are slow to reap the expected  benefits."
Forrester organises automation across a number of categories, noting the technology is a family of diverse technologies, from decision automation using digital intelligence platforms, image and video analysis; and test automation, to human/machine automation such as customer service robots, chatbots and intelligent assistants, through to industry automation such as inspection and surveillance robots and automated vehicles; sales automation and process automation with RPA and low-code development platforms.
Forrester, which has forecast job losses to reach 29 percent by 2030, with the creation of equivalent jobs only hitting 13 percent, dismisses 'apocalyptic scenarios that engender fear' to outline recommendations covering business, leadership and individual planning as well as government policy and economic planning.
So what's that mean for businesses?
Forrester paints a picture of a task-driven businesses (rather than job driven), with a 'powerful core of purpose and culture with a central control framework for automation', leveraging the gig economy and digital outsourcing, with AI-led whispers to frontline workers and predictive experiences to customers critical in delivering customer experience.
Personal data twins, will be a key currency of enterprises and ecosystems as customers, increasingly wary of their data being used by companies in ways they can't see and haven't given permission for, build PDTs based on zero-party data and governed by a select set of trusted entities acting as identity stewards.
Forrester's Future of Work Automation Playbook offers up five key tips:
Manage the automation portfolio holistically so risk and reward is balanced, paying special attention to automation that touches customers and can cause customer and brand risk.
Prepare and hone leadership for a shape shifting future enterprise with adaptive workforces that flex as needs evolve.
Maximise employees' value. With fewer human employees they are self-initiating, adaptable brand and culture ambassadors and will be the critical glue and internal force in the future of work.
Build robotics quotient – how well humans work with, and sometimes for, robots.
Build a learning enterprise