Published on the 12/06/2019 | Written by Heather Wright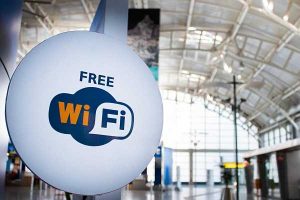 Making public hotspots secure with Wifi protection…
When your data is running low and you're facing a long wait at the airport and still have plenty of work you need to do, or you're attending a conference, it can be tempting to log onto the public Wifi network, security be damned.
And, according to research from Trend Micro both Kiwis and Australians are doing just that – despite having concerns about personal information being stolen or the bank account being hacked.
The research shows 49 percent of Kiwis and 37 percent of Australians regularly connect to public Wifi networks.
McAfee also reported similar findings in a poll last year.
The reports are, of course, self-serving to some degree – both Trend Micro and McAfee are in the security arena, and the Trend Micro report was accompanied by news the company has launched a new Wifi Protection mobile security offering to turn public hotspots into secure Wifi networks via virtual private network.
The risk posed by accessing public Wifi is definitely not worth the reward.
Trend Micro says its newly launched offering provides VPN with bank-grade encryption, ensuring otherwise unsecured networks are safeguarded.
VPNs reroute internet traffic through encrypted servers, encrypting the data travelling to and from a mobile device and making it harder for hackers on the network to see other people's activity and access their details.
While they may have a somewhat dodgy connotation – often used, as they are, by consumers seeking to access geoblocked entertainment content – if you're going to use public hotspots (and let's be honest, how many of us, especially when travelling internationally, don't occasionally dip into public Wifi), VPNs are the most effective way to staying safe.
And it's a booming market. According to Global Market Insights, the global VPN market is set to hit nearly US$54 billion in 2024, up from $17 billion in 2018 with the explosion of mobile and wireless devices driving the market.
Trend Micro's offering automatically turns on when it detects a Wifi network with low security.
"The risk posed by accessing public Wifi is definitely not worth the reward, especially if it can be avoided by taking simple measures," says Trend Micro's APAC senior director, consumer, Tim Falinski.
The company says it won't track your location or online activity. Last year a number of anti-malware tools from the popular vendor were removed from Apple's Mac App Store, amid claims user data was being 'exfiltrated' from the products. Trend Micro vehemently denied suggestions the user data was being sent to a server in China.
Offerings such as those from Trend Micro may, however, have a limited lifespan. In the not too distant future, the WPA3 Wifi security protocol is due to come into force, offering increased security.
WPA3 (WPA FYI stands for Wifi Protected Access) will offer greater privacy on public networks. Because public networks are open, traffic sent over them isn't encrypted – instead being sent in plain text. Equally, people can see any HTTP websites you connect to on public Wifi.
WPA3 will use 'individualised data encryption' encrypting the traffic between your device and the Wifi access point.
The Wifi Alliance has already started certifying new products which support WPA3 (WPA FYI stands for Wifi Protected Access), but for now at least, VPNs may offer your best protection on public networks.