Published on the 01/03/2019 | Written by Pat Pilcher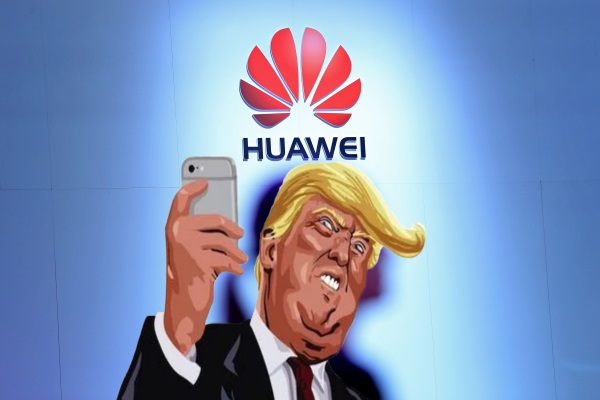 This is getting silly…
Huawei's chairperson has agreed with comments from US President Donald Trump about the future of US mobile communications as Washington and Beijing attempt to broker a ceasefire amidst fears that the US/China trade war could tip the global economy into recession.
China's flagship telco company has been thrown into the epicentre of the trade dispute with the arrest of Meng Wanzhou, Huawei's CFO in Canada, while Washington also accused Huawei of breaking sanctions and intellectual property theft, along with allegations that Huawei assists Chinese state espionage operations.
"Prism, prism on the wall. Who's the most trustworthy of them all?"
At a media round table at the MWC (#MWC19) in Barcelona, Huawei chairman Guo Ping agreed and expanded on a recent Trump tweet, saying "I have noticed the president's Twitter. He said that the US needs faster and smarter 5G or even 6G in the future, and he has realised that the US is lagging in this respect, and I think his message is clear and correct."
In his keynote speech Ping also re-stated Huawei's commitment to security saying "let me say this as clearly as possible: Huawei has not and will never plant backdoors. And we will never allow anyone to do so in our equipment. We take this responsibility very seriously."
Taking aim directly at the US, Ping said "Huawei has had a strong track record in security for three decades, serving three billion people around the world. The US security accusation on our 5G has no evidence, nothing".
Injecting a note of humour in his delivery, Ping also countered with "Prism, prism on the wall. Who's the most trustworthy of them all? It's an important question to ask. And if you don't understand this question, go ask Edward Snowden."
The debate was further fuelled by comments last week from US Secretary of State Mike Pompeo who said the Chinese telecom giant threatens the ability for Europe to work alongside the United States.
"If a country adopts this [Huawei technology] and puts it in some of their critical information systems, we won't be able to share information with them," Pompeo said to FOX Business' (no less) in a live interview on Thursday. "In some cases there's risk – we won't even be able to co-locate American resources, an American embassy and American military outpost."
Pompeo added that Huawei technology also presents security risks to Europeans.
"We can't forget these systems were designed with the express work alongside the Chinese PLA, their military in China," he said. "The risk to privacy from this technology is very, very real."
He also extended the warnings to other countries, confirming the diplomatic pressure that is being placed on New Zealand and UK governments.
"Over the past months we've been out around the world just making sure everyone had the same information, that countries understand the risk of putting this Huawei technology into their IT systems."
Has a more high profile business-political spat ever reached such lows?
Trump's tweets however do appear to have softened on the US/China trade dispute, with his latest splutterings being seen as signalling a departure from the hardline US position that Huawei should be barred from Western networks.
Trump original tweet said: "I want 5G, and even 6G, technology in the United States as soon as possible. It is far more powerful, faster and smarter than the current standard. American companies must step up their efforts, or get left behind. There is no reason that we should be lagging on something that is so obviously the future."
While 6G may count as a classic Trumpism (along with covfefe and so many others), his tweets – for a change – were not a direct attack on Huawei.
Yet Huawei remains locked out of lucrative US government and carrier contracts. Lobbying by the US has also seen Australia barring Huawei's 5G technology from use by local telco providers, while New Zealand and the UK are on the verge of decisions that will ripple globally.
Meanwhile, Ping's comments have been backed up by recent announcements from the UK and EU intelligence agencies, with a report from the UK's National Cyber Security Centre (NCSC), concluding that any potential security threats posed by Huawei's equipment can be mitigated. Similarly, a meeting of the German cabinet delving into a report by their security services that said they had failed to find any evidence of spying by Huawei. The findings of both the UK and Germany carry considerable weight and could see US lobbying around Huawei rejected by other EU countries.
During the round table, Ping also touched on how Huawei views telco security. He said technology suppliers have a responsibility to supply secure equipment, and carriers are responsible for their network security. He said while both need to work with regulators, cybersecurity needs to be based on fact rather than politics.
"To build safer networks, we need to standardise cybersecurity requirements. And these standards must be verifiable for all vendors and all carriers." He went on to say that "We need to have a unified standard that should be verifiable. It should not be based on politics, but fact."