Published on the 04/08/2020 | Written by Heather Wright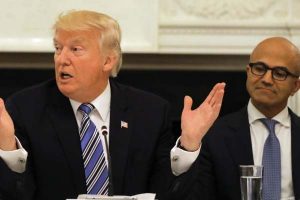 A story of Trump, TikTok, Microsoft, data privacy, Covid and money…
US president Donald Trump is apparently now open to a deal which would see Microsoft snap up video sharing app TikTok – but says that the US government should receive 'substantial' payment for the deal.
It's the latest weirdness around Trump and the proposed TikTok move to US ownership.
Microsoft has confirmed it is in talks to buy the US, Australian, New Zealand and Canadian operations of China's ByteDance, which owns the TikTok platform.
"They don't have any rights unless we give it to them so if we give them the rights it has to come into this country."
The platform, hugely popular primarily with the youth market, has been in Trump's sights in recent months – the latest target as the relationship between the US and China sinks ever lower.
Trump's administration has repeatedly threatened to ban Chinese apps, including TikTok, offering up a range of reasons from the catch-all 'national security risk' and Chinese spying allegations, to censorship claims and even the idea that it would be a way to punish China for Covid-19 (hey, we're talking Trump here, afterall).
On Sunday, Secretary of State Mike Pompeo again weighted in, telling Fox News that TikTok was among the Chinese companies doing business in the United States and 'feeding data directly to the Chinese Communist Party'.
That's an allegation TikTok – which isn't available in China, where ByteDance runs a similar app, Douyin – has repeatedly denied. ByteDance says it stores data about US users in the US, with none of the data subject to Chinese law. It also says it's never been asked by the Chinese government to remove content 'and we would not do so if asked. Period.'
TikTok, which has more than half a billion active users globally, including nearly 80 million in the US, is one of very few non-US-based social networks with any real foothold. (Incidentally, ByteDance employees around 1,000 American's in the US and has said it plans to increase staff there.)
Will Strafach, iOS security researcher, told Wired TikTok's collection on user data appeared to be 'very standard' analytics information, including the user's device model, operating system info, screen resolution and time zone information.
"In context, TikTok appears to be pretty tame compared to other apps," he says.
Certainly, the likes of Facebook and Google are hoovering up personal information on users across their much wider stables of applications.
The anti-China rhetoric, and data privacy concerns are however, hitting home. Wells Fargo has banned TikTok on company devices citing concerns about the app's privacy and security controls and practices. The fact company owned devices are meant to be used only for business has also been noted. Amazon also made moves to ban the app, only to change its stance just hours later. Meanwhile India announced bans on TikTok and 58 other Chinese apps, including Tencent and Baidu in June.
TikTok has faced a losing battle against Trump's anti-China stance – particularly at a time when social media platforms in general are under increased scrutiny. It has, however, made moves to alleviate concerns, hiring Disney executive Keven Mayer, as TikTok CEO and COO of ByteDance in May.
Trump, who last week threatened to ban TikTok in the US from as early as Saturday – and even as late as Sunday was reportedly opposed to the Microsoft deal, now says the purchase must be completed by 15 September, after that date TikTok will be 'out of business' in the United States, he says.
And he's also saying US Treasury should receive 'a very substantial portion' of the sale price for the deal, saying 'we are making it possible for this deal to happen – right now they don't have any rights unless we give it to them so if we give them the rights it has to come into this country'. How that payment process would work hasn't been explained, though Trump compared it to key money required from new tenant's of rented properties.
On Sunday, Microsoft said following discussions between CEO Satya Nadella and Trump, Microsoft 'is prepared to continue discussions to explore a purchase of TikTok in the United States'.
"Microsoft fully appreciates the importance of addressing the President's concerns," Microsoft says in a blog post. "It is committed to acquiring TikTok subject to a complete security review and providing proper economic benefits to the United States, including the United States Treasury."