Published on the 24/07/2017 | Written by Ross Fastuca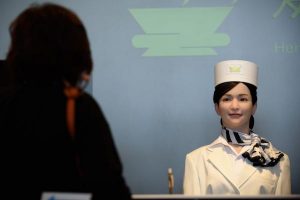 Once portrayed as an idea of the future, AI is travel-ready today…
Shaping our interactions and decisions in a way that is at times almost invisible, its algorithms are running behind the scenes and making the most complex ideas seem simple on the surface.
Companies like Google have used AI for years, serving users with relevant information and using their preferences to deliver accurate results. But now travel is catching up and harnessing the power of AI to redefine the industry and the service that business travellers can expect.
It's about giving you the information you need
Technology has presented both challenges and opportunities. It's impact means travel brands must be smarter and think about what it is that consumers really want. From online check-in and extensive personal-device entertainment systems, to wi-fi access in the air, building loyalty is about looking beyond what business travellers need and realising how their travel can be enriched.
Currently, personalised service underpins the use of AI in the travel industry.  As is stands, every interaction with a travel company should be shaping a personal profile for the customer and working towards an automated personalised service.
From traveller history and preferences – including accommodation, airlines, tickets, and stopovers – the information stored can help tailor and simplify the overall experience.
AI is also helping businesses to reduce the cost of business travel. While the use of teleconferencing and online meetings grows, there's nothing more reassuring than meeting in person.
For businesses, AI has the potential to simplify and shorten the purchase process – ensuring company and personal preferences are considered – and should work to lower the cost overall. It can also help ensure travel happens at the best time and place for all participants.
Beyond costs, AI helps companies to understand potential security or health issues in the area employees are visiting and pushes the best prices, times and places to visit. It shortens the time between check-in and arrival for travellers and ultimately serves up a multitude of handy information.
For hotels and airlines, AI offers an opportunity to focus on loyalty, rather than search marketing. The more these companies can learn about their customers and use the information to improve their services, the more likely they are to build loyalty and win repeat business.
It's happening now
There was a rumbling of AI and machine-learning capabilities in the travel industry throughout 2016, but this year has seen a significant rise in the number of organisations embedding AI technology in their platforms.
A real-life example is chatbots. These are evidence of our evolution from click-style searching and booking to a more conversational format. They use instant messaging as the application interface and are typically used by companies that want to offer customers a certain level of service, but don't have the manpower to do so. Instead, customers communicate with a pre-programmed message application that mimics human interaction or conversation in the most natural way possible.
Generally, chatbots provide automated customer service on a travel company's website, while there are others that operate via messenger platforms like Facebook Messenger and Slack. Online Travel Agencies (OTAs) have jumped on board with the use of chatbots–  Expedia, Skyscanner and Kayak have all created different versions, each with the ultimate aim of providing customers with the appearance of an agent's help, without needing to expand their workforce.
While they have the potential to make booking faster and essentially ease pressure on call centres, it's going to take a while for the chatbots to become developed enough to make a real difference. That said, as customer expectations of round-the-clock service grow, machine learning will allow them to become more and more sophisticated.
An example is Hilton Worldwide using IBM's Watson to create a robot concierge. This hotel chain has always been a leader in digital innovation, from digital check-in, digital keys and programs with Tesla. This latest foray was the first of its kind for the hospitality industry. "Connie" is stationed at Hilton McLean in Virginia and was introduced in 2016 to assist with guest requests and provide travel information for visitors. With machine learning capabilities, the more interaction with guests it receives, the more Connie will learn, adapt and improve its recommendations.
Augmentation, not replacement
There is no arguing that in some cases, booking travel can be exceptionally complicated. AI has come so far, yet there are a lot of people who are still hesitant about trusting machines to make decisions or recommendations for them. In some cases, you just can't beat the human touch (or at least concierge!)
Rather than the idea that AI is going to completely turn the travel industry on its head, reduce business travel overall and make some of the key roles played by people redundant, it's worth instead considering AI as an added value to the industry. The industry needs to continue to evolve with the technology and expand the roles people play within the industry.
We still have a long way to go until the industry is completely transformed by technology – but with more people recognising the developing capabilities and benefits of AI, there is an exciting time ahead.
Ross Fastuca is CIO and co-founder of Travelport Locomote.