Published on the 08/08/2022 | Written by Newsdesk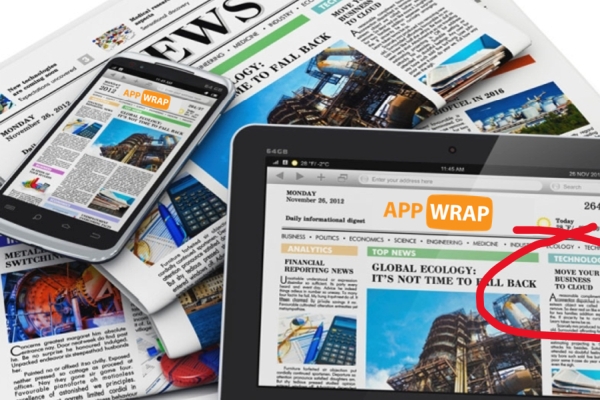 Keeping you up to date with A/NZ and world tech news…
AppWrap aims to help you keep up to date with an easy to read collection of news and snippets published by other leading tech media publications that we trust.
AppWrap August 2022
05.08 Slack reset the passwords of 0.5 percent of its users last week, after identifying a vulnerability which exposed some users' hashed passwords for five years. The bug affected all users who created or revoked a shared invite link between April 2017 and July 17, 2022, transmitting the link creator's hashed password to other members of the workspace, Wired notes.
04.08 Peter Maire's Invenco has been sold to a US industrial technology company Vontier for US$80 million (NZ$127m). Vontier says it expects the bolt-on acqusition to achieve 20 percent return on on invested capital in three years. Invenco was founded in 2009 as a self service payment solutions provider. Vontier says the deal will expand its software enabled workflow solutions and subscription business.
03.08 RPA software spend in New Zealand is forecast to reach $11 million this year, up 18.4 percent year on year, according to Gartner. That's a slight slowdown on last year's 23 percent growth. Globally the market growth is expected to be around 19.5 percent to US$2.9 billion, ResellerNews reports.
01.08 BNZ has launched a mobile app which turns Android devices into contactless payment terminals. BNZ is partnering with Visa and Quest Payment Systems to deliver BNZ Pay which is targeted at SMEs and enables businesses to see sales and business info, issue invoices, manage customer profiles and send receipts by text or email, the bank says. Ironically, the launch came on a day when the bank was plagued with online banking issues.
01.08 Ernst & Young NZ has bought tech consulting firm Q4 Associates in a move to strengthen its intelligent automation and robotics process automation capabilities and bolster its financial services tech consulting team. A team of 12 will join from Q4 servicing clients across NZ and Australia, EY says.
01.08 Kiwi MPs and party whips have been cautioned about using TikTok amid warnings it could 'pose a security risk' with data on devices potentially being accessed by the Chinese government, Stuff reports. Last week the US Federal Communications Commissioner called on Apple and Google to remove TikTok from their app stores over concerns about the Chinese government accessing data, which is held by privately owned ByteDance but, if stored in mainland China can be legally accessed by the government.
AppWrap July 2022
27.07 EY is launching local 24/7 cyber security centres in Auckland and Wellington following its work with local companies including Fonterra and the rise in cyber threats. A Christchurch centre is also being considered, EY says.
27.07 New Zealand digital assistants company Soul Machines is reportedly preparing to retrench about a fifth of its 250 staff. The move by the company, headed by tech stalwart Greg Cross, is due to the tightening venture capital markets, rather than where the company itself is at, Stuff reports.
25.07 A new NZ code of practice for online safety has been blasted as 'a Meta-led effort to subvert a NZ institution so they can claim legitimacy without having done the work to earn it', by Kiwi internet advocacy groups. InternetNZ, Tohatoha NZ and the Inclusive Aotearoa Collective Tāhono say the recently announced code is a 'weak attempt to preempt regulation'. Meta, Twitter, Google, TikTok and Amazon were among the sign the self-regulatory code, which will be administered by NZTech.
25.07 Meta, Google, TikTok, Amazon and Twitter have signed New Zealand's Code of Practice for Online Safety and Harms. The voluntary, self-regulated program 'commits' the tech platforms to providing clear public complaints mechanisms and providing yearly reporting in an effort to reduce harmful content, Newsroom notes. Public consultation on a separate, legally binding framework for online safety is due to open in September.
21.07 The Australian National University has called for Australia and other quad countries to do more to provide tech training to Indonesia to ward off the threat of China, which provide large-scale, free tech training to the country. An ANU paper says Huawei alone is potentially training 'tens of thousands' of Indonesians each year, steering the country's tech leaders towards Chinese technology – despite its apparent 'deep animosity toward China'.
20.07 Rocket Lab expects to create more than 110 new hi-tech jobs in New Zealand this year. The growth comes on the back of development of its new large Neutron rocket along with acceleration of the Electron reusable rocket program and a new high-volume production line to manufacture satellite components, Stuff reports.
18.07 Facial recognition is coming to a government agency near you later this year, with government cleared for greater use of the technology to prove who users are online. It's all part of government moves towards setting up a common identity verification service, RNZ says. 
18.07 Vodafone NZ is selling its mobile towers for $1.7 billion to funds managed by InfraRed Capital Partners and Northleaf Capital Partners. The two companies will each hold 40% of a new tower entity, TowerCo, with current owner Infratil reinvesting to take the remaining 20%, Vodafone NZ says. The announcement comes hard on the heels of Spark NZ announcing the sale of 70% of its towers business
14.07 Amazon is promising to stop using sellers data for its own benefit as it attempts to ward off EU regulators action. The company, which has been under investigation for allegedly using its dominance to box out competitors, has offered up a range of changes, including stopping collecting non-public data about merchants it competes with, and providing other sellers more access to prime space, such as the Buy Box, on its site, the NYTimes says.
13.07 NZ government agencies have set up a facial recognition system to share drivers' licence photos with the Covid-19 vaccine passport scheme – though the Ministry of Health and Internal Affairs deny sharing any photos through the system. RNZ says the One Time Identity system was a collaboration between Waka Kotahi, MoH and Internal Affairs, with the system – which Waka Kotahi says was 'successfully delivered' – also considered for use to check the identity of beneficiaries.
13.07 ANZ bank has confirmed its in talks to buy MYOB for more than AU$4.5 billion. Bloomberg says MYOB's owner, private equity giant KKR, and ANZ are in 'advanced discussions', though there is no certainty a deal will go ahead. The deal could give ANZ a 'deeper relationship' with the hundreds of thousands of small businesses using MYOB.
11.07 Twitter is reportedly calling in the big guns in preparation to sue Elon Musk after he pulled out of a US$44 billion acquisition of the company. The company has hired US law firm Wachtell, Lipton, Rosen & Katz, with Reuters reporting it plans to force him to complete the acquisition. Musk pulled out last week claiming Twitter had failed to provide information about fake accounts.
07.07 The Southern Cross Next cable has gone live, doubling New Zealand and Australia's internet connectivity to the US. The cable, which links New Zealand, Australia and the US and provides the first fibre-optic broadband connections to Tokelau and Kiribati, has capacity to carry 72 terabits of data a second – enough to simultaneously stream more than 4.5 million videos in 4K resolution, Southern Cross Cables says.
06.07 In what could be one of the largest ever data breaches, hackers claim to have obtained data on one billion people from a Shanghai police database. A user on online hacking forum Breach Forums offered to sell nearly 24TB of data from the hack for 10 Bitcoins – or around US$200,000, Aljazeera reports.
05.07 More than 30,000 Kiwi SMBs have taken up the government-funded Digital Boost digital skills training over the past two years. Small business minister Stuart Nash says more features are in development to support small business digitisation through Digital Boost, which was allocated $44 million over two years in the 2021 Budget.
04.07 MYOB has snapped up Sydney-based Greentree partner GT Business Solutions as it continues ramping up its ERP sales channel. The deal, for an undisclosed sum, continues MYOB's acquisition strategy which has seen it buy companies including Aztech, Star Business Solutions, Axsys and Exobiz since announcing its move to a direct sales and service model. MYOB says the deal will bolster its Greentree sales and support capability.
04.07 Thirteen Kiwi tech companies are among the 31 businesses on a trade mission to Melbourne this week with Prime Minister Jacinda Ardern. The mission is the first in several years with the inking of partnerships and memorandums of understanding to strengthen bilateral collaboration and innovation on the cards, NZTE says.
04.07 Wellington software testing and assurance provider Qual IT has been snapped up by Australia's Planit in a move the companies say creates the largest independent IT testing company in New Zealand and Australia and the third largest globally. Qual IT partner company, SEQA, which provides cybersecurity, has also been acquired as part of the deal.
04.07 Australia's Albanese government is doubling the share of government procurement earmarked for SMBs with new Commonwealth Procurement Rules requiring that 20 percent of procurements by value are sourced from SMEs. Each year the government spends around $70b on contracts, notes AuManufacturing.
AppWrap June 2022
30.06 The plummeting cryptocurrency market has wiped millions of dollars in funds stolen by North Korean hackers, threatening a key source of funding for the country's weapons program. An analyst says a crypto cache, worth tens of millions of dollars, from a 2021 heist lost 80-85 percent of its value in recent weeks and is now worth less than $10m, Reuters says. Earlier this year it was suggested North Korea's Lazarus hacking group was behind a US$615 million cryptocurrency theft.
29.06 Rocket Lab has successfully launched the first lunar mission from New Zealand with Nasa's Capstone micro-satellite spacecraft testing a never before flown orbit of the moon. The launch this week is the first step in Nasa's mission to send humans back to the moon, RNZ News notes. The launch came a day after Nasa launched a rocket from Australia – the agency's first launch from a commercial spaceport outside the US. The sub-orbital rocket will enable astrophysics studies that can only be undertaken in the Southern Hemisphere, Nasa says.
23.06 Kiwis are more interested in flexible work times than in a four day working week according to new research. A report by Qualtrics found while Kiwis were open to a four-day week, they also had concerns about the potential trade-offs for themselves, customers and the business itself, NZHerald notes.
21.06 Microsoft is retiring its 'emotion reading' facial analysis capabilities and restricting the use of its facial recognition operations in Azure Face API, Computer Vision and Video Indexer in the wake of rising concerns over such technologies and their validity. In a blog post, Microsoft conceded that there were 'important questions about privacy' in the case of emotion classification, which has been criticised by experts who say the technology is unscientific.
17.06 Most retailers in New Zealand are using facial recognition technology, with many customers unaware of the use. Madeline Newman, AI Forum NZ executive director, says use of the technology 'is really widespread', NewsHub reports. Newman's comments follow news in Australia that big brands including Kmart, Bunnings and the Good Guys are using the technology without consent.
16.06 MRI Software is acquiring Kiwi real estate platform provider PropertySuite, for an undisclosed sum, MRI Software says. The deal is the third acquisition by MRI of a Kiwi proptech provider in less than 18 months, following the March 2021 purchases of Palace and WhosOnLocation.
16.06 Meta, Google, Twitter, TikTok, Microsoft and other online platforms have agreed to tougher EU standards against disinformation. Thirty-four companies have signed on to the strengthened Code of Practice on Disinformation which requires them to take action to counter fake accounts and deep fakes or face hefty fines of as much as six percent of their global turnover, Social Media Today reports.
15.06 New Zealand has dropped dramatically in the latest IMD World Competitiveness Rankings, slumping from 20th to 31st of 63 countries, and logging falls across all four categories of economic performance, government efficiency, business efficiency and infrastructure. It is the only double-digit drop recorded in the 2022 results. Kazakhstan recorded the next biggest drop, down just eight places. NZ's technological infrastructure ranked a meagre 46th while 'short term policy thinking and societal thinking' were listed as key challenges. Australia was up three to 22.
15.06 Fourteen Kiwi tech scaleups have landed in the UK for a week of meetings designed to fast track their expansion into the UK. The trip coincides with London Tech Week, Europe's largest tech festival. The Kiwi cohort come from the future technology, edtech, digital health and fintech arenas, The Department for International Trade says.
09.06 Australasian cyber security services company CyberCX has snapped up Auckland's Consegna and Sydney's Tracer Cloud for an undisclosed sum. The deal will add more than 150 staff to CyberCX's 1,000+ team, the company says.
09.06 Two New Zealand smart city projects are among the 22 winners in this year's 2022 Smart City Asia/Pacific Awards. Hamilton City's transport data analytics platform won a transportation award, while Thriving Rangatahi Population Explorer by Vodafone Aotearoa Foundation took out the Outstanding Smart City Project for Public Health and Social Services, IDC says.
09.06 Businesses are wasting $334 million annually on unused digital tools and losing one full day a week carrying out tasks caused by lack of software integration according to a new survey from MYOB. Over half of NZ's SMEs now conduct half or more of their business using digital tools, but MYOB says integration and connectivity issues are costing them dearly.
08.06 Ports of Auckland has written off $65 million in automation investment after scrapping the  problematic automation of the Fergusson Container Terminal. Maritime Union of NZ has expressed concern the system would cause a serious accident given the number of 'incidents and issues' with the automated machines, Stuff says.
08.06 The ACMA is teaming up with New Zealand's Department of Internal Affairs in an attempt to battle spam and scam messages. The newly signed memorandum of understanding furthers existing information sharing and strategic engagement to enhance compliance and enforcement outcomes, the Australian Communications and Media Authority says.
06-06 Westpac Australia has launched a new commercial data analytics offering using de-identified credit card data from more than six million daily transactions to provide insights to its largest clients to help in decision making. The self-serve DataX offering aims to enable customers 'to optimise logistics, take advantage of market share opportunities or deliver to their growth strategy', Westpac says.
01.06 New Zealand's Scott Technology has won a $56 million contract to design and build an automated end-to-end material handling solution for one of Canada's largest beef processing plants. The contract is the largest ever for the company and will see it partner with France's Savoye to deliver a fully automated warehousing system for a JBS Canada plant, ODT says.
01.06 New Zealand has won the battle of the upload speeds – and is proving better during busy hours –in the Trans-Tasman broadband Performance report. New Zealand's Fibre 100 speeds squeaked in 0.1Mbps faster than Australia for downloads. On uploads NZ rated 22.3Mbps, while Australia could manage only 18.2Mbps, with more outages also recorded for Australia. The ACCC says NBN's access charging model and approach to provisioning upload traffic 'appear to be causing some busy hour and upload metrics to fall below New Zealand's'. The report was released by the ACCC and New Zealand Commerce Commission.
01.06 Facebook's number two, Sheryl Sandberg, is stepping down as COO of Meta after 14 years in the job. She will leave the position in Fall, though will remain on the board. Javier Olivan, currently Meta chief growth officer, will take on the COO role, Forbes reports.
AppWrap May 2022
26.05 New Zealand Rugby has signed SAP as its first ever major tech partner, with a multi-year 'digital transformation' deal. NZ Rugby says it will work with SAP to identify and implement innovative cloud solutions from SAP and connect data across key areas of the business to provide competitive advantage both on and off the field.
26.05 Microsoft has announced a Scaling SaaS Exports Initiative to help build, sell and grow Kiwi SaaS companies at scale. Microsoft NZ SaaS partner lead Hayley Horan says the company wants to see Microsoft 'become an international sales agent for Kiwi SaaS companies and will provide tools to help local companies build their product for global scale and sell to Microsoft customers worldwide. Auror, LawVu and Volpara have joined the initiative.
25.05 Google is collecting more personal data than any of the other tech giants, including Facebook. Analysis from AtlasVPN and security.org shows Google is collecting 39 data points, such as name, contact details, payment information films, photos, documents and spreadsheets you've stored and YouTube comments, on each user. That's well ahead of second placed Twitter, which collects 24. Amazon follows with 23, with Facebook way back on just 14 data points. Apple came in on 12. "In general, they collect every little detail that they can," AtlasVPN says. "There are a few exceptions, like your address, SSN, or driver's license number, but besides that, not much else is left out of their databases.
25.05 Dyson is planning a major robotics centre as it seeks to create new domestic robots though the company isn't revealing what forms those robots might take. The company's announcement of the plans is accompanied by video and images of robot arms picking plates and detergent, along with a soft toy, and vacuuming an armchair. Don't expect robotic helpers anytime soon, however, with Dyson saying it plans to bring the tech into our homes 'by the end of the decade'.
23.05 Prime Minister Jacinda Ardern will meet with technology executives from Twitter, AWS and Microsoft this week to discuss investment, skills development, digital cooperation and to further Christchurch Call objectives, as part of her US visit. The Beehive says a big focus will be 'supporting business linkages and technology partnerships with US innovators that have the potential to accelerate New Zealand's sustainable economic recovery.
23.05 Clearview AI has been fined more than £7.5 million by UK privacy watchdog the ICO, and ordered to delete the data of UK residents, scraped from the internet, from its systems. The Information Commissioners Office says the controversial facial recognition provider's collection of personal data breached UK data protection laws. Earlier this year founder and CEO Hoan Ton-That said it was 'heartbreaking' that countries like Canada, the United Kingdom, and Australia – where he grew up – had 'misinterpreted' Clearview's technology and intentions.
20.05 WhatsApp – aka Meta – is looking to squeeze new revenue from businesses, with the launch of its WhatsApp Cloud API worldwide and plans for a paid tier for it Business App. The on-prem version of the Business API – the company's first revenue-generating enterprise product – has thousands of businesses using it, including big brands such as Vodafone, BMW, KLM and Royal Dutch Airlines, notes TechCrunch. Companies pay WhatsApp on a per-message basis and can use the platform to direct customer communications to other channels. The cloud version is aimed at smaller businesses.
18.05 The technology sector led the way for M&A activity in Q1 2022, with international interest in Kiwi edtech high, according to PwC's latest M&A update. The report says technology, media and telecoms accounted for almost a third of the 45 deals in Q1, with 14 deals.
18.05 Just 12 people were responsible for the creation of 73 percent of disinformation on Facebook during the parliament protests in March, says 1News, reporting on The Disinformation Project findings.
17.05 New Zealand's TradeWindow is buying Auckland software company Rfider. TradeWindow says Rfider's supply chain transparency mobile interface will help TradeWindow extend its reach into primary industry supply chains by providing traceability back to cultivation and production.
15.05 The New Zealand government has promised an additional $20 million over four years to support the local SaaS sector and take the NZ tech and innovation story marketing initiative to the world. The two initiatives are part of the Digital Technologies ITP. In a pre-Budget announcement, Minister David Clark said the funding will help the SaaS sector 'build its momentum and expand its network', while also supporting delivery of short courses for digital skills development.
12.05 The new government 'green list' will enable Kiwi tech employers to compete internationally for talent with confidence, NZTech says. The list includes key tech roles including software engineers, security specialists and a range of ICT management roles, with a simplified application process and fast-tracking of applicants to residency pathways promised.
10.05 Controversial facial recognition company Clearview AI has been banned from selling its software to most US companies. The ban comes as part of a legal agreement following action by civil rights advocates who accused the company of breach of law for allegedly using biometric dat without use, TechCrunch says.
10.05 Kiwi gig economy platform 90 Seconds is gearing up to list on the ASX. The company has received more than AU$13 million in investment from Australian fund manager Bombora and other investors since September, Stuff reports.
09.05 Meta is adding NFTs to Instagram this week, and Facebook 'in the near future'. The move, initially for a small group of US creators and collectors, will enable them to share the 'digital collectables' on Instagram, Engadet reports.
06.05 KiwiSaver scheme Koura is launching what it claims is the world's second carbon neutral cryptocurrency scheme, offering participants the chance to invest in Bitcoin, or Bitcoin derivatives. Koura says the maximum KiwiSaver portfolio allocation permitted for the fund will be capped at 10 percent.
03.05 Half of Kiwi businesses are expecting to up their investment in cloud services in the coming 12 months, despite more than one-third of Kiwi businesses saying they lack the cloud skills and expertise to support planned investment. Research from Spark's CCL cloud division shows larger organisations are even more bullish about increasing their cloud investment and that 22 percent of Kiwi organisations are 'leaders'.
03.05 New Zealand has its first web3/crypto VC fund, with he launch of VC Global from Day 1 (GD1). The $5m fund will invest $100,000-$200,000 in 25 to 30 pre-seed to series A companies working in areas such as decentralised finance, NFTs, Web3 and crypto infrastructure, Tech Crunch says.
02.05 Telemedicine has taken to space with Nasa 'holoporting' a medical team to the International Space Station. The technology allows high-quality 3D models of people to be reconstructed, compressed and transmitted live in real time, Nasa says. When combined with mixed reality displays such as Microsoft's HoloLens, it enables users to see, hear and interact with remote participants 'as if they are actually present in the same space'.
AppWrap April 2022
29.04 The proposed merger between Vocus NZ (Orcon) and 2degrees has been cleared by the Overseas Investment Office, with the new merged business, using the 2degrees name, expected to launch on June 01. The deal has already been approved by the Commerce Commission, the NZ Herald notes. The new business will provide Vocus with a mobile network. Mark Callander, Vocus NZ CEO, will lead the merged business.
28.04 The Overseas Investment Office had granted consent for AWS to build multiple data centres in Auckland. The $7.5 billion AWS Asia Pacific (Auckland) Region is expected to open in 2024 and create 1,000 jobs and contribute $10.8 billion to New Zealand's GDP over the next 15 years, AWS says.
27.04 Gisborne mobile health and safety tech provider ThinkSafe has won a deal to help monitor the safety of workers in a UN programme aimed at protecting endangered species in some of the most remote and inhospitable environments. ThinkSafe has customised its application to support the UN programme, Newshub reports.
26.04 Microsoft has beaten earnings expectations across each of its key business segments in Q3 to record US$49.4 billion in revenue – up 17 percent year on year. The Intelligent cloud segment, which includes Azure public cloud, SQL Server, Windows Server and enterprise services was up 26 percent to $19.0 billion, CNBC says.
26.04 Elon Musk's likely US$44 billion purchase of Twitter has pushed debate on free speech and disinformation up a notch with Musk proclaiming that Twitter is 'the digital town square where matters vital to the future of humanity are debated', the BBC notes. He's announced his plans to 'unlock' Twitter's 'tremendous potential'. Others however have expressed concern the lack of a strong platform moderation will spell disaster. Twitter shares will be delisted and taken private once the deal closes, giving Musk total control.
26.04 2degrees has teamed up with Microsoft and Umbrellar to provide customers with self-service management and purchasing of Microsoft licenses and products, the telco says.
21.04 New Zealand looks set to be home to 25 electric, zero-carbon sea gliders from Peter Thiel-backed aerospace company Regent. Kiwi company Ocean Flyer has ordered 25 of the sea-to-air passenger vessels for high-speed coastal commuting, Newshub reports.
20.04 New Zealand has signed new agreements with Singapore which will see the two countries working together to accelerate innovation in technology, trade and food. The agreements will see increased sharing of expertise and knowledge and deeper business alliances in areas of common interest including emerging technology and connectivity TheStraitsTimes says.
14.04 Telecommunications services provider Uniti Group has agreed to a AU$3.6 billion takeover offer from Brookfield Asset Management, Morrison & Co and Commonwealth Superannuation Corporation. Uniti says value of the deal is testament to the strength of the business built over the three years since listing on the ASX.
13.04 Nick Mulcahy has taken on the top role of New Zealand country manager for Accenture. Mulcahy was previously managing director, technology, for the company, after Accenture acquired Zag – of which he was CEO – back in 2020. The reshuffle has also seen former NZ managing director Ben Morgan appointed to the newly created role of New Zealand growth lead and expanding his Accenture board responsibilities, NBR notes.
10.04 Elon Musk has taken to Twitter to propose new features, including an 'edit' button, and highlight areas of concern around Twitter – including questioning if the platform is 'dying' – after being appointed to the company's board last week, the Guardian says. Also proposed? Turning Twitter's San Francisco headquarters into a homeless shelter. Twitter has reportedly said the proposed edit feature currently being worked on is nothing to do with Musk. Musk acquired a 9.2 percent stake in the company, becoming its largest shareholder, earlier this month.
07.04 IT spend in New Zealand will hit NZ$15.9 billion, up 9.8 percent, this year according to Gartner, with IT services – the largest spend category – hitting $4.6 billion (up 10 percent). Software spend logs the biggest growth at 15.1 percent to hit $3.6 billion. Communications services spend, once a big mover, drops back to just 2.4 percent growth, hitting $4.3 billion, Reseller News notes.
07.04 NetApp is acquiring Canberra-based Instaclustr for an undisclosed amount. Instaclustr is a database-as-a-service provider, and the deal will enable Netapp to provide its customers with an easier way of installing open-source databases and help it grow beyond its on-premise storage roots, TechTarget says.
04-04 MYOB has acquired one of its longest standing ERP partners, Auckland-based Aztech Solutions, as it continues building out its direct channel to service mid-market customers. MYOB says the deal adds to its pool of in-house sales and service specialists. The company has been in acquisition mode since announcing its plans for a direct sales and service channel model for ERP solutions.
01.04 Microsoft has launched a new startup founders hub in Australia and New Zealand offering over US$300,000 of benefits and credits, including free access to technology, tools and resources and connections to mentors. Microsoft says the hub, available to all A/NZ startups, is designed for early-stage startups, to lower barriers of business creation and be a catalyst for entrepreneurship and innovation.
AppWrap March 2022
31.03 Dunedin agritech company OmniEye has raised $1.6 million in seed funding to help commercialise its on-farm livestock monitoring system. OmniEye says the technology, which uses AI software and a camera and monitoring system to provide farmers a clearer picture of the health of their herd including lameness, is already in use on more than 20 dairy farms across New Zealand.
30.03 Consumer data right legislation is expected to be introduced by the end of the year, with a report from FinTechNZ urging haste to develop an open finance ecosystem fit for consumers and businesses. Digital Economy and Communications Minister David Clark says the government is currently putting in place the framework required with the bill expected to be tabled in parliament later this year – three years after CDR was flagged as a priority, RNZ reports.
30.03 US sanctions on Russia's Kaspersky Lab are in limbo with the Biden administration divided over whether to impose sanctions, amid concerns the Kremlin could use the cybersecurity giant as a surveillance tool. The WSJ says some officials have also flagged any sanctions could increase the risk of triggering a cyberattack against the West by Moscow, potentially using Kaspersky software to do so.
29.03 Air purifying headphones anyone? Yes, Dyson is apparently making its first foray into wearable tech with an interesting looking offering (think headphones with a mini horse nose bag) combining a noise-cancelling headphone and a personal air filter – worn over the nose and mouth – in one. As CNet reports, it looks like something you'd see in a dystopian sci-fi movie. And if it had been announced three days later we would have said 'April fools!'.
29.03 New Zealand Police Open Source Intelligence team, established after the 2019 mosque attacks, is being bolstered with permanent capability. RNZ says four specialist staff have been recruited with a further two expected to be added this year.
24.03 ANZ Bank has minted its first stablecoin – the first Australian-bank issued stablecoin, tied to the Australian dollar. The bank says the A$DC is 'a first and important step in enabling our customers to find a safe and secure gateway to the digital economy'. Don't be rushing to purchase the digital currency however. The 30 million of A$DC was delivered as part of a trial. The stablecoin isn't available for retail investors and will be targeted, initially at least, at institutional clients.
24.03 Kiwi UC provider Virsae has been named a standout performer for Most Innovative Use of AI at the global Enterprise Connect show. The award recognises Virsae's VSM Everywhere end-to-end analytics platform, which extends unified comms and contact centre analytics to work from home environments, Virsae says.
24.03 Europe is putting the squeeze on the dominance of big online platforms with proposed legislation to curtail their power. The Digital Markets Act will blacklist certain practices and force large platforms such as Facebook Messenger, iMessage and WhatsApp to open up and interoperate with smaller messaging platforms if requested, says the European Parliament.
21.03 Digital services accounted for 41 percent of service exports to the US last year according to the NZ-US Trade Relationship: Stability and Diversity in a Time of Change report. The report paints a picture of a diversifying export profile for the country, though meat and dairy remains dominant – though pet food is now a larger export to the US than butter or boneless fresh/chilled lamb. Prime Minister Jacinda Ardern will lead a trade delegation to the US in May.
21.03 Kiwi small businesses are 'not digitally savvy' compared to their Asia Pacific peers according to a report from CPA Australia. The report shows that despite limiting the impact of Covid-19 last year, NZ small businesses have suffered significantly, with more shrinking than growing. Only Australia reported lower growth. The report shows 30 percent made no investment in technology in 2021, more than 35 percent don't earn any online revenue, and more than 35 percent haven't adopted new payment technologies such as Apple Pay, Paypal or buy now pay later.
17.03 The GCSB has won the Best Security Project or Security Awareness Initiative in the seventh annual iSanz security information awards. Spark's Josh Bahlman was named Best Security Leader, with Onwardly taking out the Best Startup or New Business category and SafeStack Academy named Best Security Company of the Year, iSanz says.
17.03 Microsoft is facing new antitrust complaint with French data centre provider OVHcloud among several cloud services providers filing a complaint with the European Commission, the Register says. Microsoft is also the subject of a complaint filed last year by NextCloud around Microsoft's bundling of OneDrive and other services with Windows. The new complaint alleges Microsoft is undermining fair competition and limiting consumer choice in the cloud computing services market.
15.03 The SIS has 'disrupted' an NZ-based person trying to sell 'sensitive' kiwi technology, headed towards a foreign state – likely for military use. SIS director general Rebecca Kitteridge revealed the information at a public meeting of the Intelligence and Security Committee this week, which also saw the GCSB note increasingly sophisticated and impact cyberattacks have been observed, Stuff reported.
15.03 New Zealand's property industry has accelerated its tech investment in response to Covid, but around 60 percent are still depending on spreadsheets to assess the performance of their portfolios according to a Property Council of New Zealand and Yardi survey. NZ's increased investment is ahead of Australian counterparts, with 64 percent saying tech will play a pivotal role in reshaping their real estate portfolios in the next three years.
14.03 Chorus will begin switching off copper cabinets within days. The long-planned switch-off will only occur in areas where fibre is available, Chorus says. It says about 13,500 customers are expected to receive copper withdrawal notices this year. An earlier trial batch has seen all bar 14 active copper services migrated from 28 cabinets.
10.03 TikTok is close to finalising a deal with Oracle to store data from US users on Oracle servers in order to appease US national security concerns, Reuters says. An earlier deal, begun after then-President Trum tried to ban TikTok and force parent ByteDance to sell the US business, fell apart.
09.03 Google is buying security intelligence company Mandiant in a US$5.4 billion deal. The company acquired cybersecurity specialist Siemplify in January for a reported $500 million, with TechCrunch noting it is building a strong security business.
08.03 Sales of software and ICT services by the Kiwi ICT sector hit $13.0 billion in 2021, according to Stats NZ figures. The overall 39 percent increase from 2019 was driven by a 42 percent increase in domestic sales, hitting $10.8 billion, with exports also up a healthy 27 percent to $2.2 billion.
08.08 MYOB has launched a program designed to encourage women to make the career switch to tech. DevelopHer will offer two candidates an online scholarship with Royal Melbourne Institute of Technology (RMIT), a paid salary while they learn and tutorial and coaching sessions, MYOB says. After completing the internship, candidates move into a 'protege developer role' followed by an offer of full-time employment at MYOB. The program launched in Australia five years ago.
07.03 Vodafone is exploring the potential sale of its New Zealand mobile towers – New Zealand's largest tower portfolio which reportedly could be valued at up to $1.5 billion. Financial services firms Barrenjoey and UBS are advising Vodafone about the sale which would include passive mobile infrastructure assets including towers and rights to occupy the site area, but not active assets such as spectrum, the core mobile network or backhaul, RNZ reports.
03.03 Kiwi cloud provider Catalyst Cloud has joined the list of cloud providers for government agencies, breaking AWS and Microsoft Azure's stronghold. The agreement, which the company dubs 'a big win for data sovereignty', enables Catalyst's public cloud services, including IaaS and PaaS, and professional services to be more easily used by government departments. Doug Dixon, Catalyst Cloud CEO, says the deal removes what has been a significant barrier for the public sector to adopt local cloud. The Kiwi owned and operated cloud provider has been in operation since 2014, with three local data centre regions.
03.03 Waikato DHB says it won't release details of the forensic report into last May's cyberattack because it could prompt copycat attacks and tip hackers off, NZ Herald reports. The attack was the biggest security attack in New Zealand's history and impacted the DHB's five hospitals and its services, for several months and saw personal information on 4200 people disclosed on the dark web. The Privacy Commissioner is currently reviewing the report findings.
AppWrap February 2022
27.02 Two scientists entering lab results into a database at the same time resulted in incorrect Covid text notifications being sent out on Sunday, the NZ Herald reports. MedLab Central says 'two people using the system simultaneously jammed it'. The issue affected four people.
26.02 Rotorua IT company iTCo, which specialises in online security and says it services more than 1,000 businesses in NZ and overseas, has been the subject of a ransomware attack. The attackers, reportedly associated with Russian-speaking cybercrime actors, claim to have stolen more than four gigabytes of data, One News says. There is no evidence the attack is linked to New Zealand's stance against the Russian invasion of the Ukraine.
21.02 Spark is going beyond binary with an initiative to 'make the internet more gender inclusive'. The tool builds a 'copy and paste' HTML code after helping businesses evaluate whether gender-related data needs to be captured at all, what to capture if required, and how to do it in a way 'that enables people of all genders to be seen and heard online', Spark says.
18.02 Applications for businesses wanting to bring IT workers into New Zealand have opened. Border exemptions for 600 specialist tech workers were announced in December. The exemptions are available for specific roles including software developers, security specialists, ICT managers and multimedia specialists. IT Professionals NZ says companies need to apply for an industry nomination which will be checked and validated by IT Professionals NZ.
18.02 A team of researchers from Australia, New Zealand and India has taken facial recognition to the next level, using smiles, frowns, even clenched jaws to manipulate objects in a VR setting, without the use of a handheld controller or touchpad. It's hoped the 'world first' study, will not only provide a novel way to use VR, but will enable people with disabilities to interact hands free in VR, the University of South Australia says.
17.02 AWS is adding Local Zones in Auckland, Perth and Brisbane. TVNZ will be a foundation customer for the Auckland Local Zone – 'a new type of cloud infrastructure that brings computer storage, database and other select services close to customers', providing 'single-digit millisecond performance'. The Local Zone comes on top of a $7.5 billion investment in a new infrastructure region in Auckland, expected to open in 2024, AWS says.
16.02 The Ministry of Health is reportedly 'blocking' funding for facial recognition technology to stop people with gambling addictions from playing the pokies. NZHerald says the Gaming Machine Association wants the Government to pay to help fund the software, however the MoH says it's not appropriate for it to fund software licenses for gambling venues. Venues receive up to 16 percent of gaming machine profits to meet operational costs, including harm minimisation. The MoH also already funds a database to store photos to support facial recognition systems.
14.02 Soul Machines has raised US$70 million ($105 million) in Series B1 financing, led by new investor Softbank Vision Fund 2. The 'autonomously animated digital people' creator expects to grow its (human) team of 200 by another 100-150 staff and says it is seeing growth across a wide range of industries including banking, retail, e-commerce and health education, Stuff reports.
14.02 The metaverse is proving dangerous ground, with insurance claims from VR headset use on the up. While insurers are reporting increases in home content claims, injuries are also being reported, RNZ reports. From controllers thrown in surprise into TVs, to a woman punching her son while wearing Meta's Oculus VR headset, fractured kneecaps and vertebrate – and the world's first VR-related stress fracture – it's a potentially dangerous world, virtual or IRL.
11.02 The draft digital technologies industry transformation plan has been released. A 'companion piece' to the Digital Strategy for Aotearoa, the ITP aims to provide a long-term vision for the sector and provides a draft action plan covering areas including digital skills and talent, growing export success, building Maori participation and data driven innovation. Feedback closes 31 March 2022, with publication of the final ITP timed to reflect the outcomes of the 2022-23 Budget process.
10.02 The US Justice Department has seized more than US$3.6 billion of Bitcoin allegedly stolen during the Bitfinex virtual currency exchange hack in 2016. A husband and wife team has bee arrested for conspiracy to launder US$4.5 billion in stolen cryptocurrency. The seizure is the Department of Justice's largest financial seizure ever, the DoJ says.
09.02 The Department of Corrections is gearing up to monitor offenders sweat for drugs and alcohol using electronic monitoring bracelets. The agency recently signed a $180 million contract for new electronic bracelets capable of monitoring perspiration. RNZ says while the bracelets won't initially monitor the sweat, 'Corrections wanted the option in future'.
09.02 The Financial Markets Authority has filed proceedings against two people for alleged insider trading relating to Pushpay shares. The FMA says one person faces a criminal charge, and both are facing civil proceedings. The charges relate to trades made in the lead up to co-founder and director Eliot Crowther's resignation and sell down of shares in June 2018.
09.02 A reminder that entries for the NZ Hi-Tech Awards close March 07 – that's just three weeks away. Five company awards and two individual awards, including the High Tech Inspiring Individual, are up for grabs, along with seven awards across product/solution categories. The awards themselves will be held May 20 at TSB Arena in Wellington. Find out more here.
07.02 Facebook – now Meta – has lost an appeal against a Cambridge Analytica data lawsuit launched by the Office of the Australian Information Commissioner. The Federal Court's dismissal of Facebook's appeal means the OAIC case alleging Meta has breached the privacy of more than 300,000 Australians caught in the Cambridge Analytica scandal can now go ahead, ZDNet says.
02.02 MYOB has started the year off with two acquisitions, snapping up business operations software specialist Tall Emu and document management software developer Nimbus Portal Solutions. The company says it sees opportunities in combining the end-to-end management tools with its existing financial management capabilities.
02.02 Auckland Transport is collating 'a full dataset of kerbside space allocation' using AI-assisted technology. The Intelligent Road Analyser will provide comprehensive GIS dataset on kerbside space across Auckland which will be used for planning and design. AT says the data can also be shared with AT customers.
02.02 Kiwi ag-tech company Cropsy has scored itself $1.5 million in its first capital raise. Cropsy uses AI software to analyse data gathered from tractor-mounted cameras to analyse crops and aid decision making for growers, with the data used to create digital twins for growers. Initially focused on grapevines, Cropsy says it is now expanding into apples and oranges.
02.02 Google parent Alphabet's profit soared 36 percent, with quarterly sales up 32 percent to US$75.3 billion as its digital advertising raked in the dollars – some US$61.2 billion in ad revenue to be specific. The results were ahead of analyst expectations for the quarter, ABC News notes.
01.02 Citrix and Tibco are to merge in a US$16.5 billion deal, creating what Tibco says will be one of the world's largest software providers with 400,000 customers including 98 percent of the Fortune 500 and 100 million users in 100 countries. The all-cash deal sees affiliates of Vista Equity Partners and Evergreen Coast Capital purchasing Citrix, whose future has been under scrutiny in recent years, becoming private.
01.02 Facebook's Diem digital payments dreams are over with the company announcing it has sold Diem's assets to small US bank Silvergate Capital for US$182 million. Diem's chief executive says it had become clear following dialogue with regulators that the project 'could not move ahead' and selling was the best option, the Financial Times says. Silvergate plans to launch a stablecoin by the end of this year using the Diem assets and its own IP.
AppWrap January 2022
23.01 A robot cleaner made a bid for freedom, escaping from a UK Travelodge and roaming free for a day before being found by a human cleaner under a hedge. The automated device failed to stop at the front door, with staff posting the story of the robot's great escape on social media asking for it to be returned if located, BBC says. Its freedom was short lived and it's now back at work.
19.01 A Los Angeles startup, founded by three former SpaceX engineers, is aiming to create electric self-powered train cars, which it says are more energy-efficient than trucking, CNBC says. Parallel Systems says the autonomous battery-electric rail vehicles could help alleviate supply chain issues by providing low cost and regular movement of freight in and out of ports.
19.01 Tonga is likely to be without internet connectivity for at least two weeks following the Hunga Tonga-Hunga Ha'apai eruption on Saturday. The nearest cable-laying vessel required to repair the damaged submarine cable, is 4,700km away in Papua New Guinea and expected to take several days to reach Tonga, The Verge notes. Telco Digicel said on Wednesday it has restored international calling capability for the nation.
18.01 Hamilton City Council has upped its smart transport game with the addition of the Aware AI for Pathways counter, from Kiwi tech company Aware Group. The system counts pedestrians, people on bikes, scooters, skateboards and even dogs and will enable the council to monitor foot traffic in front of businesses, make data-backed decisions and analyse how changes impact usage, Waikato Herald says.
18.01 The United States government is reportedly reviewing Alibaba's cloud business to determine whether it poses a risk to national security, according to Reuters. The news outlet cites three people briefed on the matter and says how US clients' data is stored and whether the Chinese government can gain access to it are key focuses. The Office of Intelligence and Security, set up by the Trump administration and welding powers to ban or restrict transactions between US firms and internet, telco and tech companies from 'foreign adversary' nations, is managing the investigation.
17.01 Kiwi company Trev has launched an API designed to put data squarely in farmers' hands. Trev says while APIs aren't new to the ag sector, it believes the API is the first time New Zealand farmers will have the ability to transfer a wide breadth of operational data that they genuinely own and control themselves. The API enables farmers to automate data sharing within their own systems or to permission data to be shared with approved industry partners.
17.01 International banking costs and complexities and Covid-19 are stalling NZ businesses' plans for global expansion according to a report from Wise Business. It found more than half of Kiwi 'micro-multinational' SMBs operate internationally – above the global average of 46 percent. However, despite 17 percent of Kiwi MSMBs having ambitions to expand internationally within the next five years, almost half of all micro-multinationals say they've had to cancel or put international expansion on hold due to the pandemic. More than half of the NZ MSMBs who reported feeling prevented or discouraged from either venturing or further expanding overseas, cited the cost and complexity of international banking as a major deterrent.
13.01 Ngāi Tahu Holdings has invested $3 million in retail online investment platform Sharesies. The deal is an extension of Sharesies $50 million capital raise announced in October and follows the several months of talks. The South Island iwi had planned to join the initial funding round but waited so the investment could be made by its newly established manager, Greenmount Capital, Stuff notes.
10.01 Vocus and 2degrees are promising new business offerings in their application to the Commerce Commission for clearance to merge. The two companies announced their plans to merge, creating New Zealand's third largest integrated telecommunications company, at the end of 2021. In documents filed with the Commerce Commission, the companies say the deal will bring together the 'highly complementary assets/infrastructure' across mobile, broadband and fixed-line services and with a 'shared challenger mindset' create an integrated fixed-mobile business of scale. "The ability to offer more competitive bundles of the parties respective offerings, as well as to bundle new products and services to business customers in particular, will be a key synergy.
For earlier tech news summaries go to the 2021 archive.
Footnote: links take you to the third party news sites as attributed in each story.