Published on the 17/01/2022 | Written by Newsdesk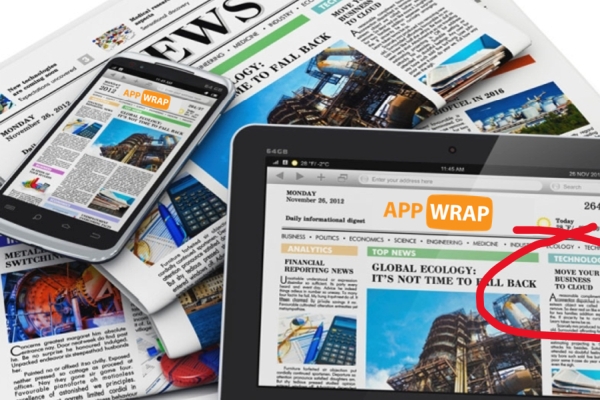 Keeping you up to date with A/NZ and world tech news…
AppWrap aims to help you keep up to date with an easy to read collection of news and snippets published by other leading tech media publications that we trust.
AppWrap January 2022
19.01 Tonga is likely to be without internet connectivity for at least two weeks following the Hunga Tonga-Hunga Ha'apai eruption on Saturday. The nearest cable-laying vessel required to repair the damaged submarine cable, is 4,700km away in Papua New Guinea and expected to take several days to reach Tonga, The Verge notes. Telco Digicel said on Wednesday it has restored international calling capability for the nation.
18.01 Hamilton City Council has upped its smart transport game with the addition of the Aware AI for Pathways counter, from Kiwi tech company Aware Group. The system counts pedestrians, people on bikes, scooters, skateboards and even dogs and will enable the council to monitor foot traffic in front of businesses, make data-backed decisions and analyse how changes impact usage, Waikato Herald says.
18.01 The United States government is reportedly reviewing Alibaba's cloud business to determine whether it poses a risk to national security, according to Reuters. The news outlet cites three people briefed on the matter and says how US clients' data is stored and whether the Chinese government can gain access to it are key focuses. The Office of Intelligence and Security, set up by the Trump administration and welding powers to ban or restrict transactions between US firms and internet, telco and tech companies from 'foreign adversary' nations, is managing the investigation.
17.01 International banking costs and complexities and Covid-19 are stalling NZ businesses' plans for global expansion according to a report from Wise Business. It found more than half of Kiwi 'micro-multinational' SMBs operate internationally – above the global average of 46 percent. However, despite 17 percent of Kiwi MSMBs having ambitions to expand internationally within the next five years, almost half of all micro-multinationals say they've had to cancel or put international expansion on hold due to the pandemic. More than half of the NZ MSMBs who reported feeling prevented or discouraged from either venturing or further expanding overseas, cited the cost and complexity of international banking as a major deterrent.
13.01 Ngāi Tahu Holdings has invested $3 million in retail online investment platform Sharesies. The deal is an extension of Sharesies $50 million capital raise announced in October and follows the several months of talks. The South Island iwi had planned to join the initial funding round but waited so the investment could be made by its newly established manager, Greenmount Capital, Stuff notes.
10.01 Vocus and 2degrees are promising new business offerings in their application to the Commerce Commission for clearance to merge. The two companies announced their plans to merge, creating New Zealand's third largest integrated telecommunications company, at the end of 2021. In documents filed with the Commerce Commission, the companies say the deal will bring together the 'highly complementary assets/infrastructure' across mobile, broadband and fixed-line services and with a 'shared challenger mindset' create an integrated fixed-mobile business of scale. "The ability to offer more competitive bundles of the parties respective offerings, as well as to bundle new products and services to business customers in particular, will be a key synergy.
For earlier tech news summaries go to the 2021 archive.
Footnote: links take you to the third party news sites as attributed in each story.