Published on the 18/02/2020 | Written by Heather Wright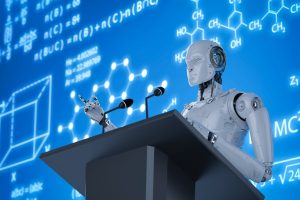 AI is hard. But PwC and EXL think they've got the plans to guide you…
It's a term bandied about frequently, but while artificial intelligence may be moving from the realms of science fiction and becoming a reality, for many businesses it's still proving a challenge.
While the processes for implementing ERP are well understood, albeit still sometimes fraught, implementing AI is another thing altogether and scaling AI is yet another beast to conquer. A 2019 study from Harvard Business Review and operations management and analytics company EXL showed just eight percent of companies have scaled their AI deployments and 57 percent are still in the planning stages for pilots. Twenty-seven percent are at different stages of AI implementation.
"In 2020 much of the AI excitement will come from results that may sound mundane."
Meanwhile a recent MIT Sloan Management Review report highlighted that while digital transformation is featuring heavily in management talk, executives have yet to walk that talk and PwC's 2020 AI Predictions report says 2020 is the year of a reality check for AI with the numbers of companies pursuing AI at scale dropping dramatically – from nearly 20 percent a year ago to just four percent for 2020.
EXL says unlike other enabling technologies that humans use to work more efficiently and effectively, AI only delivers tangible value when it orchestrates people and machines into a cohesive team.
"Successful AI deployment involves much more than launching technology to provide access to users," the company says in a white paper, Best Practices for Orchestrating AI Solutions.
"In addition to changing the way your team works on a daily basis, you must also align their mindset, their management and the way in which their work is measured."
It has laid out a four stage plan for AI implementations: Envision and define, solution orchestration, operationalisation and shaping and scaling for the future.
The first step, it says, is to identify and limit the scope of any implementation.
"Long-term AI strategies are vital, but the best results come from narrowing that vision so execution can occur in an iterative, agile manner."
"One of the biggest mistakes organisations make [at the start] is trying to do too much, all at once; applying AI to multiple, end-to-end tasks from day one. Because the machines, like humans, have to be taught how to perform their functions, companies will improve outcomes by starting small, with basic functions and then, as the machine learns, expand the breadth and scope over time."
It's an approach that has another benefit, EXL says: It gives staff members time to adjust to the changes too.
And as to what processes to lead with, PwC says focusing artificial intelligence efforts on back office tasks and automation to reap ROI and lay the foundation for real transformation is one of its five key priorities for making the most of AI this year.
"In 2020 much of the AI excitement will come from results that may sound mundane: Incremental productivity gains for in-house processes," PwC says.
The consulting firm says while respondents to its survey cited operating more efficiently and increased productivity as among the top three benefits they're seeking from AI, using the technology to extract information for finance and tax functions can result in 'remarkable savings' and provide quick wins.
Stage two – that of solution orchestration – involves identifying the real-world factors impacting a company's AI vision. That includes the existing infrastructure and whether it can support the AI framework envisioned; the availability and accessibility of data – something EXL says is often overlooked – and talent.
On the data front the company says necessary information such as client contracts, health records or sales figures is often siloed and difficult to access, requiring partnering with the data owners as well as putting in place necessary controls.
Operationalisation brings its own challenges, from determining the method of execution – big bang or methodical, controlled iterations – to creating a change management office and making the base solution reusable for other applications to maximise benefits.
"Instead of building out a one-time solution for one specific purpose, the AI transformation organisation works on the principles of transfer learning by building a set of templates with algorithms and machine learning components that serve as the foundation for change.
"So every time a business unit needs an AI solution, the team can use this set of components as the foundation and build from there, instead of starting fresh with each iteration."
It cites the example of a company building an AI model to read email, but then applying it also to reading a claim or customer inquiry.
"It's very much like putting an experienced staff member in a new position as opposed to bringing on a new hire. Because that staff member has a base of knowledge, and understands how a company operates, he or she will typically gain proficiency in the new role much faster than the new hire."
Measuring and managing effectiveness and putting a governance mechanism in place round out the operationalisation recommendations.
PwC, meanwhile says for AI to really prove a winner, it needs to be embedded fully into a company's overall IT stack.
"Incorporate AI models that are responsible for automation or key decisions, while interfacing trained AI models into production applications to scale up use. This embedding of AI into IT should also support a common AI service layer that allows any application to integrate with AI models."
The final stage in EXL's four stage plan is to continually evolve the AI strategy, shaping and scaling it for the future.
"With AI, there is probably never an end point," EXL notes.
"Organisations should continually evaluate what they want their operations to look like in the future, and how they can leverage their existing AI investment to shape and scale for that vision."
PwC's five AI priorities for 2020:
Get on board with boring AI by deploying it in key in-house functions
Rethink upskilling
Lead on risk and responsibility
Operationalise AI – integrated and at scale
Reinvent your business model with a model that integrates AI's cognitive assets and works in AI time.