Published on the 18/03/2020 | Written by Hayden McCall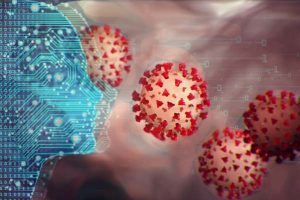 As Coronavirus sweeps the world creating widespread panic, the tech sector is quietly counting its blessings…
Australia and New Zealand, along with the rest of the world, are braced for the worst as lockdowns come into force to slow the spread of coronavirus.
The economic impacts will be wide sweeping, and no sector will be immune, but is the tech sector uniquely positioned to weather – or, dare we say, prosper – from the pandemic?
There are many ways digital providers of every description can ease the burden
Yes, it may be a little gauche to look for advantages in all this mess but technology is undoubtedly playing a central role in business' survival and it is uniquely placed to keep wheels on while others are in crisis mode.
The tech sector is not the only one that will ride this out better than others. We've put together a list below of the 'silver-lining' industries which can expect to see benefits.
But firstly, what factors should give IT confidence?
Remote working
As offices and factories close, employees of all descriptions face the prospect of forced isolation. Employers formerly unwilling or 'unable' to offer employees flexible working arrangements are currently receiving crash courses in the possibilities of just that.
For tech workers however, that might look a lot like business as usual. Technology professionals have long known the benefits of working remotely and likely already do so regularly. For companies in the technology industry, the challenge of mandatory worker isolation is more molehill than mountain. The point being that the productivity of tech firms will be much less affected by the challenges of getting effective (read billable) work done remotely.
If selling or installing remote working solutions are your market, these are the boom times. Videoconferencing software provider Zoom has experienced a 15 percent share price spike in the last month alone, Lifesize says its usage numbers are up 100 percent, and US video tech company Bluejeans says it's seen increases in video conferencing traffic on its network of up to 400 percent. Similarly, Microsoft Teams is reporting a massive 500 percent increase in meetings, calls, and conferences. Similarly Skype, Slack, Google Hangouts and the multiplicity of other messaging and collaboration tools can all expect usage to head stratospheric as the western world locks down.
In China, Alibaba's remote work app, DingTalk, was downloaded 670,000 times in the first half of January. Since then, the app has been downloaded an additional 17 million times. In fact, downloads in general from China's App Store are up almost 50 percent compared with last year as citizens forced into isolation use tech to fill their time on and off the clock.
Of course those vendors are all global cloud software providers, so the local benefit is limited to related services. Many businesses do not have an IT function at all and need help to decide on and set up solutions that will work in their environments.
On-premise risk
As the great migration home gets underway and businesses are, like it or not, forced to adapt, business solutions that don't work remotely are being scrutinised. Where they're found lacking, urgent, secure solutions are needed. Businesses of all descriptions are scrambling to keep their operations running, and it will fall to ICT service providers to ensure remote access methods are functional and secure.
A blowtorch will be on IT teams who need to explain why staff can't work remotely due to access issues to the systems needed to do their jobs.
Cloud software and infrastructure, remote desktop software and network access tools are de rigueur for most tech support firms from local IT support shops to national managed service providers, and those services are in heavy and urgent demand.
Healthcare infrastructure is being tested
The legion of healthcare providers currently scrambling to prepare for – and respond to – the Covid-19 pandemic as it unfolds need technology to play its part.
First the good news: Globally, healthcare providers have already started investing in modern health tech solutions, most notably virtualised care and remote diagnosis systems. Whatever the outcome of the Coronavirus pandemic, the new healthcare solutions that emerge from it are likely to have telehealth and virtualised care at their core. Overloaded healthcare systems are simply faced with no choice but to reduce the human burden, and, right now, contagion risk, from physical facilities.
Now the bad: Local health authorities and medical practitioners have been glacially slow to endorse the use of virtual healthcare solutions. Despite the availability and uptake of technologies in other markets, clinicians here are not set up to deliver services digitally. With primary healthcare facilities already being stretched to breaking point, the current modus operandi is slowing health delivery, impacting outcomes and putting health workers and patients at risk.
The potential for sweeping, digital upgrades to healthcare is vast, as governments, the private sector and providers themselves come together to aid in rapid diagnosis, monitoring and management of Covid-19 cases as the virus spreads.
As we've seen with the rapid and comprehensive introduction of government economic support packages, the urgency of a crisis can make the wheels of bureaucracy spin.
Health tech providers can expect business to tick upward as a result.
Business interruption is an opportunity to take stock
Accompanying all of this, of course, is the almost certainty of significant, global economic downturn, with hospitality, travel and education among the most vulnerable industries in this region. The tech sector is better positioned than most to actively support those worst hit and do everything they can to help those businesses get through.
Still, as business slows there is a real – if, perhaps, slightly optimistic – opportunity to play technology catch-up. Blowtorches aside, projects that might otherwise have been placed on the figurative back burner may get more attention as day-to-day operations slow. The benefits of 'cloud' can now expect to be crystallised and gain yet higher priority again. But non-urgent technologies – think automation, ERP, e-commerce, DX etc – should get more (and often overdue) attention as senior executives get time to think more strategically about how complex implementations can be progressed to make good of the disruption. Countering that, no doubt, is the uncertainty of future revenue streams.
Tech hardware distributors hit by Chinese supply disruptions are already seeing manufacturing starting to return to life, and as supply chains start moving again, clearing the order backlog will provide both an early spike in recovery and an opportunity to levy 'urgency premiums' for those demanding immediate service.
The greater good
Across all of this there is a greater opportunity, the kind that sees the tech sector, as a collective, coming together to help the worse-affected sectors. There are many ways digital providers of every description can ease the burden caused by the Covid-19 pandemic – we've already seen the removal of usage/data caps, but delayed payment plans and philanthropic help to roll sleeves up and deliver services to clients in sectors hit hardest are all in play.
Longer term, that spells business opportunity. Managed well, those concessions can be turned into loyal new clients, and a more resilient economic environment for everyone, both tomorrow, as we struggle to slow the spread of Covid-19, and the day after that, when, hopefully, life starts to return to normal.
And what other sectors are likely to see benefits? Our predictions below:
Sectors to economically benefit from Covid-19 
Health sector generally (and providers of PPE mask + sanitisers specifically)
Cleaning/sanitation (related products and service providers)
E-commerce (esp supermarket and meal delivery)
Couriers (with e-commerce spike)
Supermarket/FMCG and particularly canned and dried goods manufacturers (not to mention toilet paper manufacturers)
Remote meeting/video conferencing/collaboration software and related ICT services
Home entertainment (Netflix, X-Box etc)
Virtual healthcare technology
Medical insurance (even though the pandemic probably isn't covered)