Published on the 14/03/2018 | Written by Epicor Software Corporation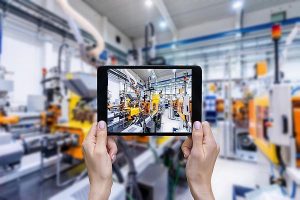 [Resource library] For manufacturers, staying competitive is critical to success, and technology leadership is a core capability to embrace Industry 4.0…
Technologies and mega-trends are having a profound impact on manufacturing all around the globe. If you want to take advantage of the challenges and opportunities that come with manufacturing in the global economy of the future, technology and automation must be a critical focus.
Tomorrow's manufacturer needs to be a leader when it comes to adopting technology. The future-proof manufacturer will be able to provide highly personal, flexible products where and when the buyer needs them, versus large quantities of homogeneous products. Increased connectivity between devices and consumer products opens wide the opportunity to gain market share.
Those who want to run the factory of the future will need to shed any lingering habits of waiting for a new technology to become the norm before embracing it.
iStart interviewed Epicor's Industry 4.0 expert Frank McLoughlin recently to understand his views on where the local manufacturing industry is at on their 4.0 journey. You can read the article (or listen to the full interview podcast) here: "Australasian manufacturing is going to be great again."
The resources below have been assembled as a collection of educational assets designed to assist forward-thinking manufacturers assess their priorities, and embolden their decisions on implementing modern automation systems.
Resource library for manufacturers: 
1. eBook: Factory of the Future
In this eBook, you'll learn how to take on life- and business-changing megatrends with new technological tools, ultimately enabling you to improve efficiency and reduce cost to keep you competitive and, most importantly, deliver greater value to your customers.
Register to download the eBook:  The factory of the future
2. Visibility and Industry 4.0: The Transformation of Manufacturing
Digital transformation is sweeping through the manufacturing sector as businesses move to capitalise on the Internet of Things (IoT), advanced analytics, cloud technologies, artificial intelligence (AI), and more. It presents significant opportunities to achieve growth by addressing key operational issues and aligning products and services to the demands of today's market. Leading manufacturers see these new technologies as game-changers; enabling them to redefine business models, revolutionise internal operations, and improve customer experience.
Register to download the ebook:  Building a better tomorrow with ERP
3. Infographic: Transform Your Manufacturing Business Through Digital Technologies
This infographic provides a simple visual workflow to get on the right path to transforming your manufacturing operation:
Learn how to: Transform Your Manufacturing Business Through Digital Technologies.
4. Ray Wang Video: Get Fit for Growth
A recent survey revealed trends on how businesses get set for growth. The study surveyed 2,450 business decision makers and employees in the manufacturing, distribution, retail and lumber sectors across 12 countries. Ray Wang, Principal Analyst and Founder of Constellation Research, Inc., explains the key factors for growth, and how your company can Get Fit for Growth.
Learn more from Ray Wang's video: Get Fit for Growth
ABOUT RAY WANG//
Ray Wang advises Global 2000 companies on business strategy and technology selection and is author of the popular enterprise software blog, "A Software Insider's Point of View." He is a regular contributor to Harvard Business Review and well quoted in The Wall Street Journal, Forbes, CNBC TV, and others.
5. Webinar: Grow your Business through Digital Transformation
In the race to maintain business growth in an increasingly competitive environment, manufacturers face significant challenges to meet and exceed customer expectations. Discover how manufacturers are taking advantage of the opportunities digital transformation can bring to their business by viewing this insightful webinar which explores:
Global megatrends and how they impact the world we now live in and how to stay ahead of the ever changing global landscape
Technology change and Industry 4.0 and how to become a future ready manufacturer
Implications for next generation manufacturing and the importance of predicting trends that will help your company grow
Watch the webinar here: Grow your Business through Digital Transformation
6. eBook: A manufacturer's guide to growing profitably
Whatever your growth ambitions, chances of achieving them are increased with effective planning. Download this eBook to learn about the five key factors that can help grow your business quickly, efficiently, and profitably. Also, learn more about the pitfalls of growth and how to make sure they don't overwhelm your business.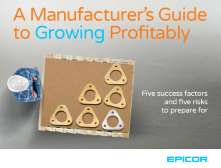 Register to download the eBook: A manufacturer's guide to growing profitably
…
…
…