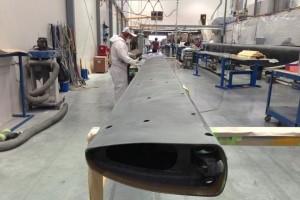 AT A GLANCE
INDUSTRY
Manufacture of carbon-fibre spars (masts)
BUSINESS OBJECTIVE
COGITA chosen for its experience in the engineer-to-order business.
Epicor ERP chosen for its accurate planning, scheduling and inventory management.
SOLUTION
THE BENEFITS
Quoting is now a lot faster and more accurate.
Labour and materials planning and requirements are also much better, resulting in significant increases in productivity.
FOR MORE INFORMATION
EPICOR
W: www.epicor.com
P: +61 2 9927 6200
F: +61 2 9927 6298
The pioneering yacht mast-maker used to have difficulty managing its burgeoning manufacturing work. Now, with Epicor's ERP system, manufacturing processes are sailing on smoothly…
Auckland-based Southern Spars is an industry pioneer in the design and manufacture of carbon-fibre spars (masts) used for world-class yachting and racing. The company also specialises in the design and construction of high-performance rigging, booms and other components.
Its award-winning spars grace the decks of many of the world's largest super-yachts and sailing vessels.
Modern masts can be more than 65 metres in length and increasingly use is being made of the carbon rigging made exclusively by Southern. Total mast and rigging packages for the biggest super-yachts now exceed NZ$10 million and projects can take up to 35,000 hours over two years to complete.
Southern pioneered the use of carbon fibre, building its first strong, ultra-light spar in 1990. Now its new EC6 carbon fibre-rigging system is capturing the imagination of the world.
Southern employs more than more than 250 people and operates in New Zealand, the United States, Sri Lanka and South Africa. Its headquarters are in Auckland.
Much of the company's work is project-specific. Customers include several America's Cup teams, such as the 2007 BMW Oracle and Emirates Team New Zealand, who benefit from Southern's expertise in producing quality products that meet their specific needs.
Demanding customers
Southern's customers are very demanding, says Xen Zambas, Southern Spars' manager.
"Our customers usually want something special. They can pay between $500,000 and $10 million or more for their engineered-to-order products. So they want the best. They want to win, so they want premium products that meet their individual needs. While they may be spending millions of dollars, value for money is still important to them."
While meeting these demands, Southern also has to deal with the usual manufacturing dilemmas, such, as for example, difficulty with planning and scheduling; poor inventory management, and under-performing suppliers.
Southern used to struggle to extract the information it needed out of its computer system, as it was using a package with poor manufacturing capabilities.
"In earlier days, expectations were poorly set and commitments were accepted that were almost impossible to keep," Zambas recalls.
"We would estimate delivery dates based on how long it took us to do the last job, plus a 'guesstimate'."
In order to meet increasing demand for its products and maintain customer satisfaction, Southern decided it needed to improve its manufacturing system.
Its choice was Epicor's ERP system. This was implemented along with manufacturing processing improvements. The result: huge progress has been made.
Quoting is much faster and more accurate.
Labour resources and material requirements are better planned.
Significant increases in productivity have been achieved.
For example, a recent job estimated under the old structure as being expected to take 2,200 hours took 1,500 hours and was delivered in half the expected time.
Why COGITA?
Southern selected Epicor ERP software, with COGITA undertaking the implementation, as the company felt it was best suited to Southern's wide-ranging needs. Epicor ERP's workflow allows Southern to:
Define what is needed at quotation stage, giving better control during the manufacturing process.
Accurately control project definitions and variations.
COGITA was chosen for its proven experience of successfully implementing manufacturing ERP systems, particularly project orientated engineer-to-order systems.
Benefits
Epicor ERP has given Southern control over its manufacturing processes making them far more predictable and profitable. For example:
All details of projects are now visible, enabling more fine-tuned management.
Quoting has improved as internal costs can now be defined, typically, in half a day's work, down from two weeks, thanks to a new baseline built into Epicor ERP.
Purchased materials no longer arrive unexpectedly late.
"Information is now available to let us plan a job and forecast profitability, instead of relying on gut feel," says Zambas.
"We are now more disciplined in sales, project management, design and procurement, so can be smarter across manufacturing opportunities," he adds.
Impressive metrics
The effect of these enhancements has been impressive, with the company saying the following changes have been the direct result of its Epicor ERP implementation.
Raw material costs are down by 15 percent or more.
There has been a 30 percent reduction in inventory.
Production capacity has increased.
Future sailing
Southern is now using Epicor to plan further business improvements and has implemented the software at a newly acquired company — Marten Spars. Implementation at its newly acquired operation, in South Africa, will be start soon.
"We are looking for continuous improvement, and to refine our KPIs," says Zambas. Lean Management practices have also commenced.
Cost of Ownership
Southern's use of Epicor demonstrates Epicor's claim to a low total cost of ownership. Southern's system is managed by a single person, Zambas, while the company has grown from 15 users to more than 50, the result of additional operations being added in South Africa and New Zealand.
FURTHER READING
About This Vendor
More Case Studies