Published on the 17/12/2014 | Written by Mark Webster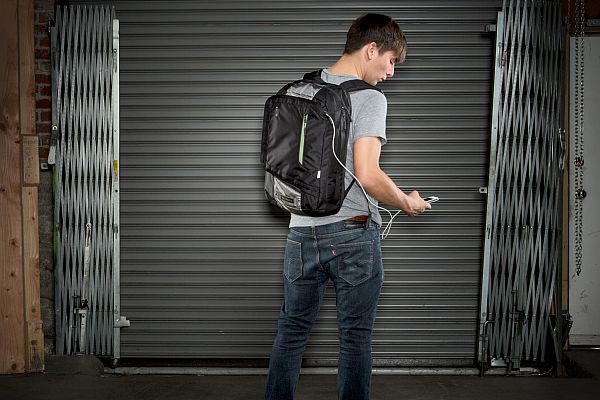 When you have to travel, the tech you pack is as important as anything else you take…
There are some very smart devices for your smart devices. I'm always keen on discovering good cases for iPhones and iPads before I go anywhere challenging. Another swell idea is a screen protector, but I've found the plastic ones invariably bubble on application or some time thereafter, and they get scratched and scuzzy. Luckily you can get some terrific, light, thin, toughened glass protectors these days, including one from OMP made from anti-smudge glass rated at 9H Surface Hardness. The OMP even has iPhone 6-style rounded-off edges, yet is available for or 5/5s and 6/6 Plus, for NZ$24 and $29.

Some planes let you charge now, although some USB ports by seats don't have enough current to allow this and others simply ban charging. There's a sort of guide to what's what online here.

But even if you have remembered all your various charging things, and remembered to take your USB to Lightning (or the older-type) cable in your accessible carry on, one of the better solutions is simply to have an extra power-pack with you. There are some very good examples of these available in New Zealand, for example Logitech's case + energy, part of the wonderful '+' system for iPhone 5/5s. It's well built, giving you a very strong case with a magnetic back that snaps to one of two available car mounts (windscreen or vent). I've written about this battery charger-back before in a full review.

There's no iPhone 6 version yet, and it snaps perfectly to the case + fitted to an iPhone 5. Since I had the + battery back in my carry-on, I managed to boost both my partner's 5 and my 6 on a very long flight from Auckland to Frankfurt thanks to its Lightning connector. You charge the case separately before you set off with a little USB cable that comes with it – if it's snapped to the iPhone 5 in the + case, the phone charges first, then the case gets topped up. It's a good system, with a four-LED indicator that lights up at the press of a modest, flush button to show how much charge is available, although you won't want to use the phone that much with the battery clipped on as it adds quite a lot of bulk. I'm curious to see if Logitech can do this for iPhone 6. Boosting both phones only dropped the charge from four to three lights.

One step beyond doesn't just add charge, but adds storage space. Only for iPhone 5 so far, the Mophie Space Pack is a charger case that also adds a little length (connecting via Lightning at the bottom of the case makes this inevitable) and charges your phone while adding 16, 32 or 64GB of wonderful, extra storage. So if you regret getting only a 16GB iPhone, for example, you can double that while getting extra charge for NZ$210-$230-$320, depending on size. It also comes with an app clever enough to immediately shunt all photos you take onto the Mophie, saving valuable space effortlessly on your iPhone. Again, I'm curious if Mophie can do this for the slimmer, rounded-off iPhone 6 body.

Another idea for on-the-roading is the Timbuk2 PowerQ Backpack. You're allowed a little bigger bag for carry-on, but it's a well-built rain-proof pack that doesn't scream 'I've a laptop!' while protecting it and your other devices with padding. The real kicker is the internal Joey Energy TSA-compliant charger that charges almost every device chargeable via USB, so your iPad, laptop and iPhone are all covered, as well as many other devices. The PowerQ handles two full charges of most full cellphones before it needs replenishing itself (charge it at home before you set off). That's NZ$310.

When I left Auckland it was over 20°. Now I'm in Holland. The second day here it snowed, then hailed on me. The temperatures vary from 1-8 … it's cold. I've been helping on a photo/film shoot and I have to constantly pull my phone out to check times, weather etc. But I'm cold-averse at the best of times. Here, thankfully, I've been using a wonderful pair of Mujjo gloves that are soft and comfortable and woven through with silver-coated nylon threads. That means I don't have to take them off to use my iPhone – total boon! They're fleece-lined and have smart leather wrist closures. Classy, comfortable, warm and useful. When it's really miserable I wear NZ merino fingerless gloves over the top, too – luxury. These Mujjo gloves aren't on sale in New Zealand yet, but if you're a farmer out on the back blocks in winter or anyone who needs to work or play outside in the cold, and you don't want to slow down to take off a glove to use a phone or tablet, I reckon these things are great, with excellent fingertip-feel through the soft cloth. I can use the trackpad on my laptop, type, and use a compact camera with them on, too, and the palms and two-thirds of the fingers are covered in tiny rubbery grip-bumps.

Talking about temperatures, right now as I write it's 8° degrees outside. Back home in Auckland, it's 18° in my Auckland garden (it is 9:45 at night). The garden has 51 percent moisture and the basil got 12.6lx of light during the day. I know this thanks to the Koubachi garden sensor stuck into the soil next to our precious basil. It's pretty weird being able to do this from tens of thousands of kilometres away, but if I was managing a garden for a business this would be awesome. I'd be on the blower ordering some watering! Actually, it's awesome enough just knowing how well our yard is doing, and in a much nicer temperature range to get back to. The Koubachi WiFi Sensor sticks into the soil outside (it's showerproof) or inside and reports to you via wi-fi, no matter where you are, thanks to a free iOS app. The sensor sells for NZ$127.

You can't go travelling without taking the odd photo and I find the iPhone 5 and 6 camera wonderful. It's not the highest-specced of a smartphone but the image processing Apple built in is world class. Handily, you can fit extra lenses to the iPhone 5. The model I tried is the olloclip Lens System with fisheye, wide angle and macro lenses. The olloclip simply slips over the lens corner of an iPhone 5 in just a few seconds, and you can switch lenses simply by flipping it over. It's small enough to go into a pocket, is made from aircraft-grade aluminium and has precision-ground, coated glass optics. The included Microfibre carrying case doubles as a lens cleaner and it also fits the 5th generation iPod touch with an adaptor. This one costs NZ$109.95 – there's also a telephoto set and a Pro version with a case. The kit with telephoto and circular polarising lens costs NZ$139.95. Either gives you a whole new scope in photography wherever you may be.


Mark Webster is an independent writer of Apple Mac and iOS/iDevice news and reviews for Australia and New Zealand, covering Apple Mac and iDevice (iPad, iPhone, iPod touch) hardware and software and accessories. His guest blog posts make it easy to find the most up-to-date news and information on Apple products and software.