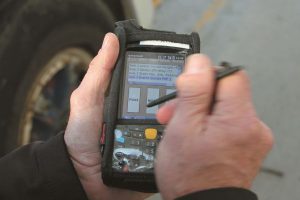 AT A GLANCE
Vehicle Testing New Zealand
INDUSTRY
BUSINESS OBJECTIVE
Increased market share  and new services  based on better  customer data
More accurate and  faster collection of  vehicle inspection data
Improved productivity  through more efficient  handling of NZTA data
SOLUTION
Mobico-designed and  developed system using  Motorola handhelds, with integration to NZTA's Landata system
THE BENEFITS
New marketing  opportunities based on  richer customer data
Better visibility  of testing station  throughput and  customer waiting times
Helps commercial  customers lift operator  rating system scores
Maintenance reminders  to improve vehicle  safety
FOR MORE INFORMATION
MOBICO
W: www.mobico.biz
New Zealand
E: info@mobico.biz
T: +64 9 303 0686
FURTHER READING
About This Vendor
More Case Studies
How do you make customers smile when they have to make what can only be described as a 'grudge purchase'?...
While people respect that vehicle inspections help ensure their safety and keep the road toll down, for most of us having our vehicle inspected is a costly inconvenience we would rather do without. So much so, that the Government recently legislated to reduce the frequency of mandatory vehicle inspections.
So when you are the country's largest vehicle inspection service provider, how do you respond?  Less inspections, more competition, and a new owner thrown into the mix.
Greg O'Connor, operations general manager at Vehicle Testing New Zealand (VTNZ), says the strategy is to embrace the fact that, behind people, information is its second most important asset. "We wanted to improve our service, add value and improve productivity, while reducing costs – all at the same time," O'Connor says. "And now that businesses are waking up to the value of information, we saw the opportunity to change the game in what we provide our customers".
Throughout the country, all vehicle inspection service providers access the New Zealand Transport Agency (NZTA) vehicle and driver licence management system, which is called LANDATA. Whether you are a garage, vehicle engineering services provider or a specialist inspection service provider, you update LANDATA via a web portal. A Warrant of Fitness (WOF) is issued when you have a compliant private vehicle (such as a car, motorbike or trailer). The Certificate of Fitness (COF-A) is for light commercial vehicles (such as taxis, rentals cars, vans and small trucks), and COF-B is for heavy commercial vehicles (such as large trucks, trailers and buses).
In New Zealand, every year there are around 5.6 million WoF inspections, 85,000 COF-A inspections and 275,000 COF-B inspections. With the average age of vehicles at 6 years, the maths around the change in regulation will see these volumes potentially decrease by a massive 30 percent.
VTNZ's 85 inspection centres and nine mobile test facilities carry out about 900,000 WOF/COF-A and 230,000 COF-B checks a year. "However you look at it, that is an enormous amount of data," says O'Connor. "Historically, once the inspection is completed, most of it remains handwritten on the checksheet".
Furthermore NZ fleet owners and drivers are subject to NZTA's operator rating system. This score based system provides incentives for well maintained vehicles including first time COF passes.
Only the most basic pass/fail and unstructured fault information is rekeyed from paper into LANDATA. The vast array  of information, including detailed fault  identification, vehicle condition plus important  details such as tyre tread depth and brake  performance is never electronically recorded or analysed.
"We began exploratory discussions with VTNZ in 2009 about improving productivity while increasing the accuracy and amount of data collected" says Aldas Palubinskas, Mobico's managing director. "VTNZ leadership had a vision about the potential of unlocking the inspection data to add value for customers, NZTA and the wider automotive ecosystem. VTNZ also wanted to make the inspection process easier and faster for their customers and staff. Thus the cornerstones were set for the solution which is now known as Quickcheck," he says.
Now after five years of collaboration  between VTNZ and Mobico, a major change  in government vehicle testing regulations,  significant changes to the NZTA LANDATA  system, plus a change in ownership for VTNZ  — Quickcheck is well on the way to being rolled  out to VTNZ's testing centres throughout New  Zealand. Mobico has designed and developed all the software and integration for Quickcheck, and also supplies and supports the Motorola handheld computers and wireless networks which enable Quickcheck.
"We had to solve a lot of complex operational and technical issues, a key one being how to structure an inspection process that is very time critical and tactile in terms of how it is delivered on the front line," Palubinskas says. "We also had to build a highly functional interface into LANDATA, which is a proprietary Government system for which there are no integration layers or tools".
Because of vehicle inspectors' working environment they need a device that they can use indoors, outdoors, crawling under vehicles and climbing into cabs. The device also needs to be able to withstand significant accidental drops, tumbling high out of truck cabs and even into inspection pits. It also needs to work when the operator is wearing gloves, plus be dust proof, grease proof and waterproof. The Motorola MC67 has proven to be an excellent choice and reliable workhorse for VTNZ Quickcheck.
"Inspectors capture important regulatory information and we have to make sure they, and customers, aren't left waiting while Quickcheck is doing something," Palubinskas says. "Furthermore they need to capture and record hundreds of thousands of data combinations on a relatively small screen. The architecture, comms server and user interface which enables them to do this has been our biggest technical triumph on this project. Because of this the Quickcheck solution also has significant merit for use in front line police and insurance work including citations, incident reporting and assessments."
In an increasingly deregulated environment, the vehicle information collected by inspectors has gained additional importance for VTNZ.  Apart from being uploaded directly to NZTA's LANDATA system, the vast array of data collected on inspectors' handhelds – details such as tyre tread depth and brake performance – will also be made available to truckies via a VTNZ web portal and to other VTNZ operational systems.  This is the foundation of new services developed by VTNZ to give it an edge in an increasingly competitive market.
With fleet owners subject to NZTA's operator rating system (which gives them a score including COF pass-fail history) and with increasingly vigilant roadside enforcement, the more information available to operators, the greater the value VTNZ provides.
O'Connor says Quickcheck has become a key tool for improving relationships with commercial fleet operators.
"Quickcheck enables us to provide a greater level of customer service. Operators are able to take data from our portal and use it to predict future maintenance, which helps them to keep vehicles on the road."
"Furthermore we expect a 30 percent reduction in WoFs which is hugely significant, so our challenge is to increase market share," O'Connor says. "We've identified some opportunities, one of the key ones being weekend trading".
Garages,which is where most motorists go for a WoF, don't typically operate during weekends. As Quickcheck is rolled out through WoF testing stations, its detailed data will increasingly be used to trigger customer reminders of maintenance their vehicle might need between WoF checks, such as new tyres.
"It's all about stickiness – getting the customer to return", O'Connor says.
The system will also smooth the WoF customer experience, enabling vehicle inspectors to respond to test centre bottlenecks and informing motorists of waiting times.
Palubinskas, whose role in Quickcheck's design gives him a high-level view of the system, says on the one hand it is a real-time business management tool and on the other it's part of a complex regulatory mechanism.
"VTNZ has 600 inspectors doing a very subjective job in a very objective regulatory environment, with the added drivers of time and cost imperatives. When its reputation stands and falls on the outcome, how do you do all that without a system such as Quickcheck?," he asks.
With hundreds of thousands of variables, the ability for a number of inspectors to be checking a single vehicle at one time and interface with LANDATA, there were plenty of potential technical snags in implementing Quickcheck. But O'Connor says Mobico has done an outstanding job and ultimately the regulatory uncertainty was the only holdup.
With 600 vehicle inspectors and 20 customer service representatives across 85 locations, operational process changes would take VTNZ many months to deploy and embed. Now with Quickcheck, they do it in a week.
O'Connor says the reduction in regulatory inspection volumes was a scary concept for VTNZ stakeholders, but now with Quickcheck VTNZ has a tool to confidently adapt and drive their business forward. "We have unprecedented agility around developing new products and services while at the same time improving and enhancing established ones. Quickcheck will help the VTNZ team and all our automotive industry stakeholders embrace new industry regulations and opportunities. It improves relationships and adds tangible value which is unique to VTNZ," says O'Connor.
"The feedback from customers has been all positive and front counter staff like the system because they no longer have to do data entry into LANDATA, which lets them focus on customer service."
And when O'Connor asks inspectors – particularly those initially unenthusiastic about Quickcheck – whether they would give it up, they tell him an unequivocal "No!".
"And when I ask myself the same question, I wouldn't be without it either."